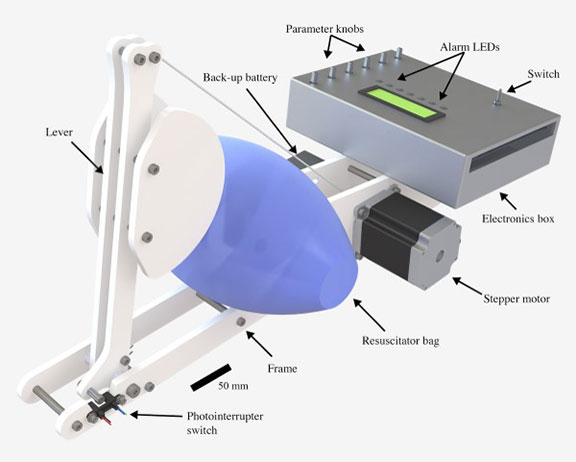 A team of engineers and physicians at the University of California San Diego has developed a low-cost, easy-to-use emergency ventilator for COVID-19 patients that is built around a ventilator bag usually found in ambulances.
The team built an automated system around the bag and brought down the cost of an emergency ventilator to just $500 per unit. The device's components can be rapidly fabricated, and the ventilator can be assembled in 15 minutes. The device's electronics and sensors rely on a robust supply chain from fields not related to healthcare that are unlikely to be affected by shortages.
The UCSD MADVent Mark V also offers pressure-controlled ventilation equipped with alarms that can be adjusted to signal that pressure is too low or too high. This is especially important because excessive pressure can cause lung injury in COVID-19 patients who often experience rapid decreases in lung capacity as the disease progresses.
Most ventilators measure the volume of air that is being pumped into the patient's lungs, which requires expensive airflow sensors. By contrast, the UCSD MADVent Mark V measures pressure and uses that data to deduct and control the airflow to the lungs. This was key to lowering the device's price.
"The MADVent can safely meet the diverse requirements of COVID-19 patients because it can adjust over the broad ranges of respiration parameters needed to treat acute respiratory distress syndrome," said James Friend, a professor at the UC San Diego Jacobs School of Engineering. "The combination of off-the-shelf components and readily machined parts with mechanically driven pressure control makes our design both low cost and rapidly manufacturable."
---