Page 1 of 2
In a new series, the editors of NASA Tech Briefs magazine catch up with everyday engineers about their unique responsibilities and challenges. This week, we highlight fellow reader and CAD designer of medical devices, Michael Hudspeth.
If you'd like to be featured in our "Meet Our Readers" series, send an email to This email address is being protected from spambots. You need JavaScript enabled to view it. and tell us about your work.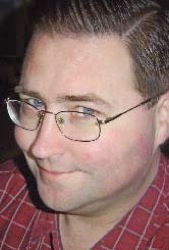 Michael Hudspeth, CAD designer, Bausch and Lomb, St. Louis, MO
Field/Expertise: Medical Devices
What is your job title, and what does your day-to-day work involve?
I'm a CAD designer for the surgical division of Bausch and Lomb. I'm doing surgical tools for eye surgery. I design products for my client; build and support 3D solid models for production, tooling and documentation; write copy; and create graphics for documents and marketing materials. If we need prototypes, then I have to arrange for the prototypes to be made.
What are your biggest challenges when designing these medical device products?
Taking a design from concept to manufacturing. Just designing something isn't good enough. If it can't be mass produced, it's just a work of art. To become a real product, you have to get to know processes and materials as well as procedures that make the technology possible.
You also have to deal with pretty tight tolerances sometimes. When you're trying to produce a needle that goes into someone's eye, obviously you want to make the smallest incision possible.
With your work specifically, how has CAD software improved?
It is night-and-day better. When I started out, everything was done on a drafting board with pencil and mylar leads, or paper and mylar sheets. You really had to have an artistic eye to do drawings like that; there was no other way to do it. Chances are you didn't have a model in front of you so you had to just make it from orthographic views. If you wanted an isometric view on a drawing, then you had to figure out what it would look like. Frequently that was very difficult.
So CAD has really helped in the drafting area. It's also helped with areas that are more downstream, like finite element analysis, so that you can make sure that your part is not just going to break on you. Then you have the flow analysis, which really is handy because then you can rely less on your experience and more on what the computer tells you.