Page 2 of 3
Assessing sustainability at the product development stage is the most logical place to start because decisions made when a product is designed can impact the eco-friendliness and sustainability of subsequent processes in an exponential fashion. Choosing to continue to use an increasingly expensive, scarce, or harmful material, for instance, can have substantial cost ramifications in manufacturing, purchasing, and sales.
When you evaluate a product's environmental impact while it's being developed, you can most effectively communicate sustainability benefits to downstream processes and across your organization. By implementing sustainability practices in product development, you can create the critical mass required to overcome organizational inertia to implementing sustainability practices throughout your enterprise.
A Focus on Lifecycles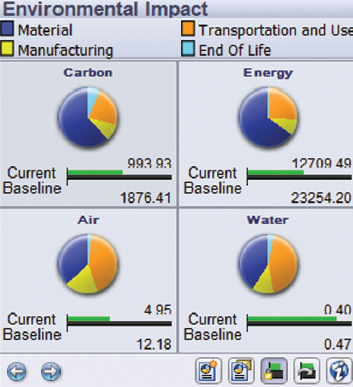 What type of information should you generate in product development to facilitate sustainable design? Some companies have undertaken elaborate, detailed Life Cycle Assessments (LCAs) for each of their products to understand how they can apply sustainability to existing products and develop derivative offerings.
An LCA is an in-depth, cradle-to-grave analysis of your product's environmental impact throughout every facet of its lifecycle. Although LCAs can be sophisticated and expensive, manufacturers can perform automated lifecycle-based evaluations in software that produce good estimates, which you can use as guidance for sustainable design. The most important step is to start thinking about environmental impacts over your product's full lifecycle.
For example, what are the characteristics of the different stages of a product's lifecycle that hold the greatest potential for damaging environmental impacts? What is the product's carbon footprint — how much CO2 is released into the atmosphere as a result of the manufacture and use of the product? How much energy does the product consume both during use and while it's manufactured? Does your product or production process emit gases and compounds into the atmosphere? Are effluents that can impact vital ecosystems released into waterways during manufacturing or as a result of the use of your product?
In-depth assessments of the impact of a product's lifecycle can be quite elaborate and detailed. For the purposes of product development, LCA thinking, automated solutions, and reliable metrics of environmental impacts, which provide guidance on a design's potential sustainability, represent simpler, more pragmatic approaches to incorporating sustainable design in product development than a full, comprehensive LCA.
Obtaining these types of quick answers provides designers and engineers with the information and confidence that they need to make smart, environmentally friendly design decisions before manufacturing begins.
Adopting Greener Design
The critical role that sustainability will play in establishing strategic advantage has already begun. Most business experts anticipate that sustainability will force companies to rethink their business models to make their products, technologies, and processes more sustainable, not just to achieve regulatory compliance or engender goodwill, but to remain viable and successful.
Manufacturers need more than just assumptions regarding environmental impacts. You need to be able to use LCA thinking to generate reliable estimates of environmental impacts in order to manage the development of greener products and demonstrate the benefits of sustainable design. Software products, such as SolidWorks® Sustainability, are available to help manufacturers implement sustainable design.
For a technology-based solution to be effective in facilitating sustainable design, it must take into account the strategies required to effect this transition. The information generated as a result of LCA-based sustainable design establishes the foundation for the successful execution of the planning, development, manufacturing, communication, and marketing strategies that will drive your company's sustainability efforts forward.
Software allows you to assess and evaluate environmental impacts before making any hard investments in materials or machinery. You can use this information to create breakthrough innovations, introduce new processes, communicate sustainable initiatives, and market greener products. Using sustainability software allows designers and engineers to measure the environmental impact of the products they design in their CAD software. It provides real-time feedback on environmental impacts in four key areas: Carbon Footprint, Total Energy Consumed, Effect on Water, and Effect on Air.
This LCA information is generated through the GaBi database and material/ process model provided by PE International, a leading provider of sustainable design and software services. Applied methods include implementing management systems, developing sustainability indicators, life cycle assessment (LCA), carbon footprint, design for environment (DfE) and environmental product declarations (EPD), technology benchmarking or eco-efficiency analysis, emissions management, and clean development mechanism projects.