Page 1 of 2
The use of high-density, lightweight fiber optics is increasing in networks and electronic systems for equipping aircraft interiors.
The civil aviation market comprises commercial passenger planes, cargo planes, private planes, private jets, and helicopters. Design engineers strive to reduce aircraft weight and costs, while enhancing safety, functionality, and the passenger experience in the cost-competitive travel industry. Relative to the overall aircraft, cabin electronic and electrical systems represent the largest segment, and include passenger seats, electric door systems, lighting, lavatory, kitchen equipment, flight attendant panels, and other cabin equipment.
Cabin Connectivity Design Challenges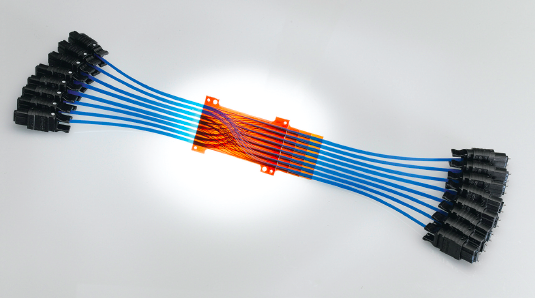 There are numerous and complex challenges to outfitting new aircraft, and upgrading legacy aircraft cabins to meet today's in-flight entertainment (IFE) demands. With the advent of connected vehicles, homes, and workplaces, the technology-focused lifestyle has become the norm. Air passengers want more accessibility to electronic devices, including smartphones, tablets, laptops, and in-flight shopping, and seamless connectivity to business or entertainment whether they are waiting in the airport or in the air. Commercial aircraft manufacturers have trained their focus on revamping cabin interiors to provide travelers with the connectivity they desire, while delivering business value to airlines.
Printed circuit board (PCB) box units supplied by in-flight manufacturers provide hardware and electronic systems to each row and passenger. IFE equipment and seat electronic boxes are commonly installed in seat backs and floors, and whatever space is available. The boxes located beneath the aircraft seats contain power, hubs, and access points for in-flight features and functionality. Issues arise because space is at a premium. Seasoned travelers who routinely compete for legroom with an IFE box can understand the challenges facing a civil aviation engineer.
Advantages of Fiber Optics vs Copper
Fiber optic technologies are a strong fit to address the needs of the civil aviation market. The conversion from copper interconnects to fiber optics enables smaller, lighter-weight technologies with improved bandwidth, and numerous other advantages in networked IFE systems for passengers and equipment used by flight crews.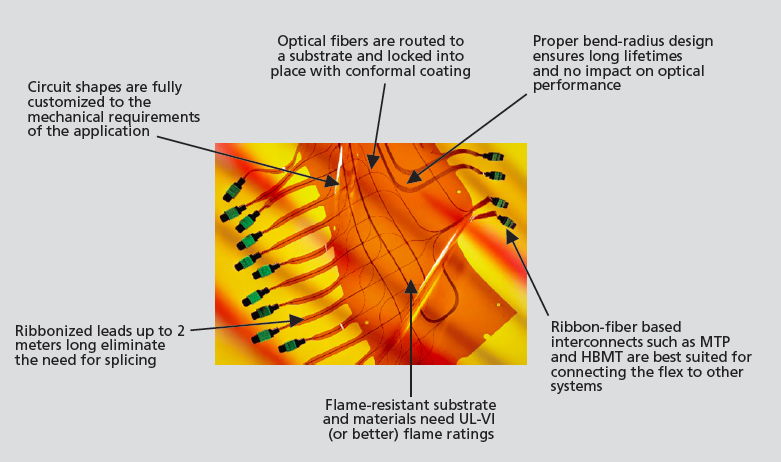 Fiber offers technological advantages to replace copper in aircraft cabin applications. Copper cable assemblies present bandwidth bottlenecks when 300 passengers are simultaneously accessing streaming video or WiFi. Very little signal loss occurs during light transmission over fiber, so data can move more rapidly. As a communication backbone, fiber delivers performance of 10 Gbps and up, depending on the fiber selected, and can easily span the length of an aircraft. The additional bandwidth can allow electronic equipment to be placed in one or two central locations on an aircraft, rather than the added cost and design complexity of a seat-by-seat configuration.
In addition to high bandwidth capability, data transmission over fiber is extremely reliable and immune to environmental factors that can negatively affect copper cable transmissions. Fiber is less susceptible to temperature fluctuations, and more resistant to moisture and liquid contact than copper. In addition, unlike copper cabling that can be vulnerable to electromagnetic interference, fiber optics is a dielectric and immune to EMI.
In terms of physical security, hacking into a fiber network is extremely difficult even under ideal circumstances, and can be more swiftly detected and prevented within a fiber network than a copper network. The airframe of a commercial passenger aircraft operates independently of the cabin, and that provides a level of security. However, there are ways to breach the security of a copper network architecture using hard connections or antennas. Consequentially, fiber optics provides a more cyber-resilient architecture.
The cost for fiber is steadily decreasing and saves costs over time. Fiber requires less networking hardware and maintenance. Migration to fiber can be undertaken in incremental upgrades. Pre-sliced fibers, connector options, and other field termination technologies help simplify installation. New-generation IFE systems using fiber optics can provide more services including audio, video, Internet, flight services, multimedia, games, shopping, and phone communications, and a future-proof, scalable network.