Top prizes in the 2016 Create the Future Design Contest were awarded on November 11 in New York City. The Grand Prize winner, and winners in seven categories, took home awards for their innovative design ideas.
Sponsored by COMSOL and Mouser Electronics, the contest attracted more than 1,100 new product ideas from 62 countries. Find descriptions of all winning inventions and honorable mentions at www.createthefuturecontest.com.
Keynote speaker Salim Nasser, CTO and Co-Founder of Rowheels, was the Grand Prize winner of the 2010 Create the Future Design Contest. Salim shared how his idea for changing the way manual wheelchairs are propelled – pulling, rather than pushing – has helped reduce shoulder and wrist injuries and pain for users. Learn more at www.rowheels.com.
The seven category winners received a workstation from Hewlett-Packard. Representing HP was Martin Citron, Senior Technical Consultant.
The winner of the $20,000 Grand Prize, Thomas Healy, Founder and CEO of Hyliion, developed a way to hybridize the trailer portion of the tractor-trailer, saving more than 30% on fuel, and reducing emissions by 10%. The system uses regenerative braking to capture power when the trailer is slowing down or going downhill, and reuses the power to help the truck-trailer up hills. Learn more at http://contest.techbriefs.com/grand_prize2016.
Mark Skoog of NASA's Armstrong Flight Research Center accepted the award as Electronics category winner. His team's technology encodes massive amounts of data into a package more than 1,000 times smaller than with standard compression, improving digital terrain maps. Learn more at http://contest.techbriefs.com/electronics_winner2016.
Jon Sumroy, winner of the Consumer Products category, demonstrated his mifold portable car booster seat. Learn more at http://contest.techbriefs.com/consumer_winner2016.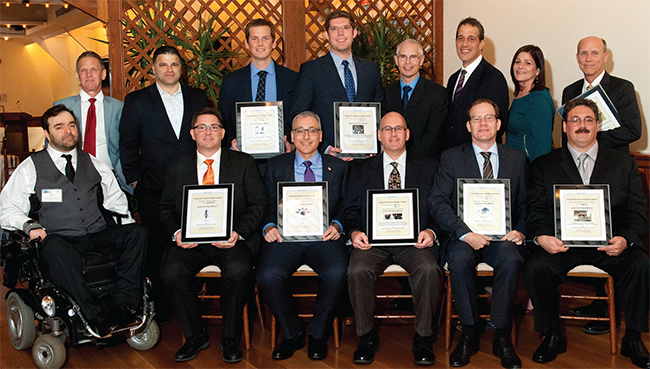 2016 Create the Future Design Contest winners and sponsors. Front row (l-r): Keynote speaker Salim Nasser; Gary Cola, Aerospace & Defense category winner; Jon Sumroy, Consumer Products category winner; Mark DiPaulo, Automotive & Transportation category winner; William Janssen, Sustainable Technologies category winner; Nicholas Pinto, Machinery/Automation/Robotics category winner. Back row (l-r): Svante Littmarck of contest sponsor COMSOL; Mario Freni of contest supporting sponsor Analog Devices; Sean Connell, Medical category winner; Thomas Healy, Grand Prize winner; Bernt Nilsson of contest sponsor COMSOL; Martin Citron of prize sponsor Hewlett-Packard; Marilyn Cooper of contest sponsor Mouser Electronics; and Mark Skoog, Electronics category winner.