(Winner of an HP Workstation)
High-Flow Lift Pump
Eric Foy Central Point, OR
Apump is often needed, particularly in the act of firefighting, to raise water to fill a header tank or mobile water tender. The High-Flow Lift Pump, which can pull water quickly from a creek or river, contains an axial flow impeller pump section made of a resistant, custom-molded, thermoplastic engineering resin located at the inlet end of a transfer hose. The pump also has a power head at the flex-fitting found near the designated tank or truck, and a flexible drive shaft running inside the transfer hose. Sections of transfer hose may be daisy-chained, with the internal drive shafts automatically coupling together as the hose is assembled.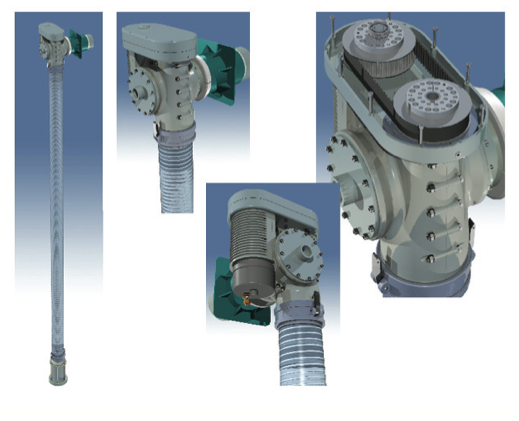 Prototypes have been built and operated under test conditions. According to the inventor, flow rates of 500 to 1,000 gallons per minute have been achieved at up to 12 feet of head. In one series of tests, the pump and power head were fitted to a Boeing/Vertol helicopter, successfully filling a 1,000-gallon drop tank during hover. By linking hose sections together, tender trucks can be filled even when they're located far away from the source.
"I really don't know what to expect in terms of the result of the publicity that this design might receive from this award, but as 'a guy with a concept,' I am grateful for the recognition. This award is sort of the answer to what really is a lifelong childhood dream." – Eric Foy, Inventor
The pump can be applied to additional fields, including marine, wastewater treatment, and oil industries.
For more information, visit www.techbriefs.com/ctf_liftpump. Contact the inventor at This email address is being protected from spambots. You need JavaScript enabled to view it..
Click here to view the Medical Category Winner.
Honorable Mentions
Solar-Powered Irrigation Water Pump
David Halverson
Moore, SC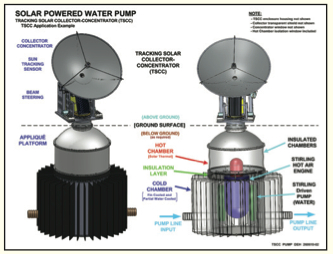 A standalone, solar- powered irrigation water pump, the Tracking Solar Collector-Concentrator (TSCC) forms an extremely efficient hot-air engine configured to drive two single-stage, centrifugal-like water pumps located at each side of the engine. A 24"-diameter conic reflector provides close to 380 Watts of solar energy (with thermal chamber temperatures of greater than 600 oC), equating to about 1⁄2 horsepower. The TSCC engine and pumps are located at ground level, and extension sections can increase the height of the collector-concentrator while still taking advantage of below-ground installations. The entire TSCC unit is enclosed and sealed using bellows, a chamber window, and an integrated transparent collector rim cover. An internal flywheel motor/generator supplies battery charge and starter functions.
For more information, visit www.techbriefs.com/ctf_irrigate.
"Leak-Free" Constant Seating Stress Flange Gasket
John Jenco
Charlotte, NC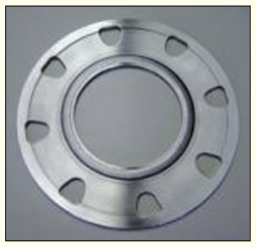 The constant seating stress gasket (CSSG) consists of a metal carrier ring supporting com- pressible sealing elements in opposing channels on either of its sides. The technology uses proprietary finite element analysis to predict the degree of flange rotation. Its design allows for the determination of a known pivot point and an external compression stop dimension based upon predicted rotation at a desired preload. When the flanges reach the compression stop, the desired fastener preload has been achieved. If both the sealing material's initial density and the channel dimensions are known, then gasket seating stress (GSS) can be accurately predicted as the material is compressed into the channels during flange assembly. Because the compressed material reaches its maximum den- sity on compression, and because it is fully contained, creep relaxation cannot occur, preventing leaks.
For more information, visit www.techbriefs.com/ctf_gasket.