(Winner of an HP Workstation)
Sustainable, Durable Bridges of the Future
Ibrahim Al-Khattat Talacre, Wales, United Kingdom
Alight, pre-stressed, segmented-arch (LPSA) bridge-building system uses a kit of compact parts that can be manufactured and transported, resulting in cost, energy, and capital investment savings. In addition to providing an alternative to heavier energy-consuming bridge materials like concrete and steel, the framework's design flexibility helps to withstand natural disasters like earthquakes.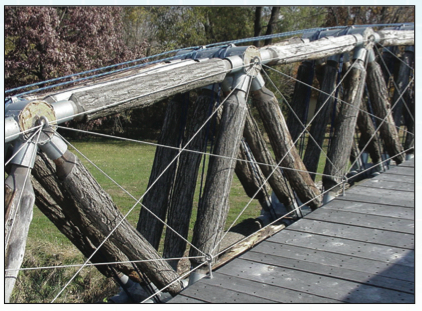 A typical structure consists of nodal connectors, or clusters, of thin-wall pipe sockets. Connecting these nodes are longitudinal members, or small-diameter timber (SDT) posts. SDT ends then slide-fit into nodal sockets, and a tensioning system compresses the assembly into a rigid, load-bearing structure. The posts, made from the decay-resistant black locust (robinia pseudoacacia) hardwood species, provide two to three times the compressive strength of concrete, according to the inventor.
"[Winning the category] gives exposure to our mission. SustainableScience.org Inc. is a non-profit engineering R&D charity, run on behalf of humanity by unpaid volunteers. Its end products, through engineering science, seek to transform sustainability into a tool of development. We see our role as providing both the technology and the dynamics for public/private sector alliances to generate wealth and empower communities." – Ibrahim Al Khattat, Inventor
By virtue of the connection mechanism, LPSA bridges dissipate distortion energy, offering a sustainable option for regions prone to earthquakes, hurricanes, and floods. The technology has won several R&D grants in the United Kingdom and the United States.
For more information, visit www.techbriefs.com/ctf_bridges. Contact the inventor at This email address is being protected from spambots. You need JavaScript enabled to view it..
Click here to view the Meet the Judges.
Honorable Mentions
CCFL as Alternative to CFL and LED
Fred Elvin
Oakland, MI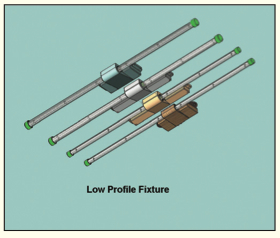 As an alternative to LED technology, A Versa Lighting (AVL) developed Green Star-compliant light fixtures based on Cold Cathode Fluorescent Lamp (CCFL) devices. The CCFL design restricts light dissipation as the adjacent coils obstruct the light of each other, reducing emission efficiency. The replaceable light engine reuses the driving circuitry. Optically optimized components and microprocessor supervisory capabilities enable dimming, remote control, and integration functions into smart energy management systems. The light engines exhibit comparable efficiency profiles with alternative power sources, such as batteries charged from solar, wind, and water power sources.
For more information, visit www.techbriefs.com/ctf_ccfl.
AirWatt Air-Driven Power
Melvin Prueitt Los Alamos, NM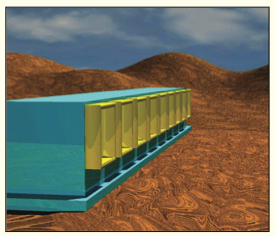 Whereas solar-powered machinery only works during sunlight hours, the AirWatt power plant can run close to 24 hours per day in some locations. AirWatt plants use atmospheric air as their heat source and evaporating water as their heat sink. The warm air is used to boil a refrigerant, which turns a turbine, and the water evaporation then condenses the refrigerant. The AirWatt air is cooled further in a heat exchanger, and then it flows to surfaces in the condenser where water films flow downward. Since the air has been cooled considerably, it becomes quite cold as it evaporates water on the condenser surfaces. After the cold air leaves the condenser, it flows back through the heat exchanger to provide cooling for the incoming air.
For more information, visit www.techbriefs.com/ctf_airwatt.