Page 2 of 2
Developments in 3D Immersive Environments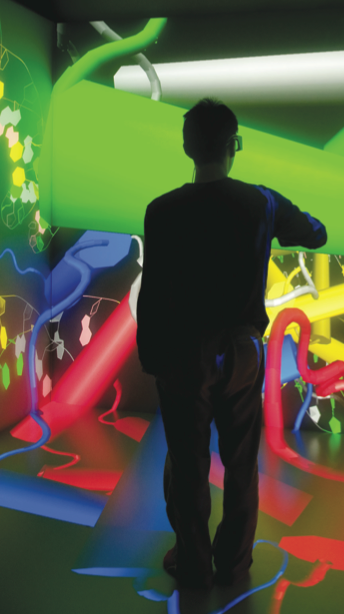 Various CAVE™ (Computer-Assisted Virtual Environment) 3D environments, some with as many as six sides, deliver an immersive experience. Rear projection lights each wall, floor, and ceiling.
The David A. Cofrin Center for Biomedical Information at the HRH Prince Alwaleed Bin Talal Bin Abdulaziz Alsaud Institute for Computational Biomedicine of the Weill Cornell Medical College, located in New York City, features this type of 3D stereoscopic technology (see Figure 3). The Institute's researchers have leveraged the technology to display insights into the mechanisms behind short-term memory, determine how cocaine and dopamine bind at the neurotransmitter site in the transporter molecule, and collect valuable longitudinal data on the structural development of the brains of children whose mothers abused drugs.
The facility's CAVE is powered by eight HD3 digital projectors that hold native 1920 × 1080 HD resolution, three-chip DLP® projectors with active stereo capability. The projectors deliver 3D images for molecular modeling and other data-rich areas of biomedical research.
Each blended wall of the CAVE is 1920 × 1920 pixels, and the whole CAVE resolves to 14.74 megapixels, or 3.28 megapixels per wall. The overall footprint, including access allowance, is 25 × 20 × 11.5'. The two projectors per wall utilize a dedicated, purpose-built hardware and software setup that enables image warping and edge-blending through the control of a graphical user interface. It manages complex arrayed projectors, which in turn allows users to expertly create seamless images on flat, curved, or cylindrical surfaces.
The Louisiana Immersive Technologies Enterprise (LITE), a 3D immersive visualization and high-performance computing resource center, hosts clients in industry, government, and university sectors. LITE's facility features a set of visualization venues including a Total Immersion Space (TIS) or CAVE. The TIS, a 10 × 10 × 10' room with screens on its ceiling, floor, and four walls, uses multiple projectors in a motion-tracking environment. The TIS allows users to walk in and experience a computer-generated virtual world (see Figure 4).
A 70,000-square-foot facility, LITE has three other visualization venues. A 175-seat theater, equipped with HD, 3D projection, and THX surround sound, is designed "classroom-style" to facilitate group decision-making sessions, training exercises, and other hands-on large group activities. A collaboration room with a two-projector curved screen, motion tracking, and surround sound, can also help small working groups needing an interactive 3D space for activities like design reviews, proof-of-concept screenings, and team training. Finally, an executive conference room features a videoconferencing system, a 120-degree split screen, and similar THX sound capabilities.
3D Display:The Bottom Line
The more accurately and faster a customer's problem can be solved in the virtual world by using a 3D immersive environment, the higher the quality, value, and reliability of the ultimate solution that is then introduced to the real world. If a user can model output in the virtual world to accurately reflect what the real world presents, the business or government entity will better satisfy its customers and users. Three-dimensional display technologies can generate a step change in the sheer number of designs and variety of details in designs that can be achieved, which is an extremely beneficial advancement.
This article was written by Zoran Veselic, VP, Visual Environments & Simulation, and Larry Paul, Senior Director, Technology & VIS Solutions, at Christie (Cypress, CA). For more information, Click Here.