Page 2 of 2
Today, there is a shift in Litroenergy, from light to power. "We were looking at the cost-effectiveness of the light source being mass-produced. That is a goal that we think we can eventually achieve, but in order to get to that point, we have to look at the most profitable applications first," explained Stark. "And that turned out to be in power generation — an electrical long-term-life battery, which is not affected by heat or cold, and could last 20 years. [Litroenergy light] does create a lot of electricity, but we had difficulties with its ability to generate enough electricity. We are looking at photocell market advancements to hopefully bring us to a point where we can start production," he said. "There has been a lot of work with bioluminescence, which is very similar to our light output. We're working with metamaterials to bend the light for the right frequencies and obtain the highest output. We're still a little bit away from making that work effectively enough."
Stark added that the demands for this type of product are massive. "This is really what the world is looking for — the long-life battery that doesn't cost much and lasts for 20 years to power the electric car and to use in everyday life, from computers to iPods. We're in the right field at the right time. We're just looking at a short life to achieve the right solar cell, the thin-film solar cell, to turn our light into electricity."
For more information on Litroenergy products, visit www.glopaint.com.
LifeBelt CPR Device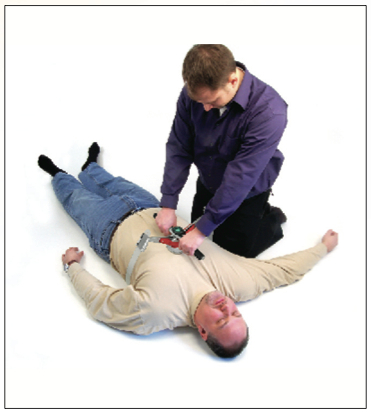 Thom Lach of Deca-Medics was the Grand Prize winner of the 2008 contest for his work with the LifeBelt®-CPR device, which has an innovative attaching belt that allows users to perform high-quality CPR compressions. The LifeBelt CPR device is lightweight, easy to use, and features a patented method for incorporating a mechanical advantage to allow rescuers, regardless of their size or physical strength, the ability to perform adequate compressions over an extended period of time. The device is designed to attach quickly, enabling a rescuer to start CPR in 15 seconds or less. An intuitive readout warns if the compression depth is too deep or shallow, giving the rescuer confidence that he or she is pushing properly.
According to Lach, since his win, the company has applied for and won an award from the Global Cardiovascular Innovation Center, which is a partnership between the Ohio Department of Development and the Cleveland Clinic, for new technology in the area of cardiovascular research. "The award was a $400,000 matching grant for us," said Lach, "providing we're able to find some additional funding. That was a big recognition for us locally. It really signifies that there's some value in what we're doing and the approach we're taking."
Lach feels that visibility was the biggest benefit of the Create the Future contest award. "We probably received contacts and inquiries from 30-plus countries and distributors from across the world, and we never would have gotten that kind of exposure without winning the contest." Added Lach, "I think the contest is a fantastic opportunity for anyone who has an idea that hasn't quite gotten the visibility yet. This is one of those competitions that can really turn the prospect of success around, or help accelerate the prospect. When we won the contest, it made a significant difference in our company's focus and confidence going forward."
The future of the LifeBelt looks bright, according to Lach. "We're looking at it from the point of view that there's not only a commercial opportunity, but there's significant opportunity in the first-responder and home markets, where we think that good CPR is going to make a difference between life and death."
Lach believes that "maybe the proper strategy is instead of putting defibrillators everywhere, the need is to increase the quality of CPR. We're really coming up with something that can be universally applied and as ubiquitous as a fire extinguisher."
For more information on the LifeBelt CPR device, visit www.deca-medics.com.