Page 1 of 6
View these and other new products on display by exhibitors at Photonics West, January 27-29, in San Jose, CA. Visit Photonics Tech Briefs at Booth 832.Visit http://spie.org/x23685.xml for more information.
Product of the Month Booth 541: Thermoelectric Cooler-Equipped APD
Nextreme Thermal Solutions (Durham, NC) has integrated the OptoCooler UPF4 thermo-electric cooler into Voxtel's VDHAX line of hermetically-packaged avalanche photodiode (APD) receivers. The OptoCooler-equipped APD device will be used for applications in military laser radar and optical communications and commercial telecommunications. APDs can multiply the signal produced by incident light by as much as 100 million times, enabling photon detection at very low light levels. The APD device delivers more than 45°C of cooling during operation. The UPF4 removes a maximum of 610 mW of heat at 85°C ambient in an active footprint of 0.55 mm2.
For Free Info Visit http://info.hotims.com/22906-205
Booth 6330: Tunable Fabry-Perot IR Detector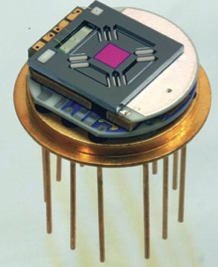 InfraTec Infrared LLC (Grapevine, TX) is introducing a new tunable mid-wave (3 - 4.1μm and 3.9 - 4.8μm) infrared detector. Based around InfraTec's standard LME-337 single channel detector, a micromachined tunable Fabry-Perot filter is applied that lets the device scan a spectral region instead of only one discrete wavelength. By varying the control voltage from 0 to 30 volts, the filter will move through a spectral range of slightly more than 1 micron.
For Free Info Visit http://info.hotims.com/22906-206
Booth 6144: Deformable Mirror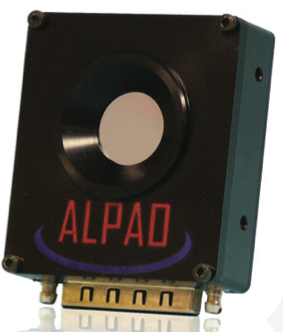 The DM52 deformable mirror from ALPAO (Biviers, France) features very large stroke and large bandwidth. The series is optimized for each application in free space optics, astronomy, and vision sciences. ALPAO also offers a highly flexible and open architecture called ALPAO Core Engine. This modular approach is an ideal tool for developing custom system and innovative solutions based on AO technologies. The AOS-0 is designed for R&D and education applications, while the AOS-1 is designed for more demanding applications.
For Free Info Visit http://info.hotims.com/22906-207