Page 1 of 3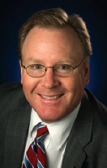 NASA's IPP provides leveraged technology for NASA's mission directorates, programs, and projects through investments and technology partnerships with industry, academia, government agencies, and national laboratories. As IPP Director, Doug Comstock also is responsible for directing the IPP portfolio of technology investments and partnering mechanisms, including Small Business Innovative Research (SBIR), Small Business Technology Transfer Research (STTR), the Centennial Challenges, and the Innovative Partnerships Seed Fund. He also is responsible for intellectual property management and technology transfer that provides benefits to society from the nation's investment
in NASA's space and aeronautics missions.
NASA Tech Briefs: What is the function of the Innovative Partnerships Program within NASA?
Doug Comstock: We work technology in both directions, into and out of NASA. We identify sources of technology that will meet the needs of NASA's mission directorates and their programs and projects. There are several mechanisms we have for doing that. The Small Business Innovation Research (SBIR) program and the Small Business Technology Transfer (STTR) program are the largest in terms of dollar value. There also is the Centennial Challenges, which is NASA's prize program, and something we started recently called the IPP Seed Fund, in which we seek cost-shared technology development for technologies of common interest between NASA and outside organizations. The fourth major area is through partnerships, where we can identify technologies that are of mutual interest and have partnerships to advance the technology. These are what we call "spin-in" technologies, or funded technologies.
For the "spin-out," that's where our Technology Transfer program comes in. Part of what IPP does is intellectual property management for NASA and licensing of NASA technologies. We work to document NASA Technology Reports (NTRs) – those technologies that appear in NASA Tech Briefs – and then documenting successful cases of technology transfer such as those that appear in NASA's Spinoff publication.
What we try to do is match technology needs with technology capabilities both into and out of NASA.
NTB: Other than NASA Tech Briefs, how do you get the message out to the public sector and U.S. industry that NASA has these technologies available?
Comstock: A lot of it is attending and giving presentations at various conferences and symposia with a cross-section of various industries other than aerospace. We try to identify technical gatherings where it would be beneficial for us to get that message across. The primary interest for us is really the spin-in, where we can engage some of these other communities that may have technologies that they're already using that would be relevant to what NASA's trying to do so we can leverage what they've done and not have to invest as much or at all in developing those technologies. We do some of those things through partnerships as well.