Page 1 of 2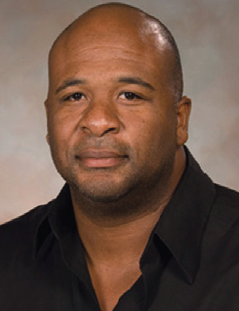 Allen Parker is a systems engineer with expertise in the areas of fiber optics and data acquisition. He is currently part of the team that is developing and flight testing an innovative new fiber optic wing shape sensor system installed on the Ikhana unmanned aircraft system.
NASA Tech Briefs: You've been called a fiber optics pioneer by some of your peers and coworkers at Dryden. What first sparked your interest in fiber optics and inspired you to pursue a career in it?
Allen Parker: Well, first off I want to correct that. The quote [published in the NASA Dryden X-Press] does say that I am a "super genius in fiber optics," but I am definitely not a genius, let alone a pioneer in the area of fiber optics. I am a systems engineer, and we were fortunate about 10 years ago to be made aware of some emerging new technology, technology based on fiber optics used as strain sensors. That sparked an interest in us. Dr. Lance Richards and I decided to travel back to NASA Langley, where this technology had originated, and meet with researchers that were involved in the development of this technology. We met with them for a couple of days, saw the potential, and decided to bring it back and apply it to what we do here at Dryden.
NTB: You're currently working on a unique fiber optic wing shape sensor system that's being tested on the Ikhana unmanned aerial vehicle. Please tell us about that project and what it's designed to do.
Parker: The Ikhana aircraft (General Atomics Predator B) was a great opportunity for us to take this technology to the next logical step, flight test. That's our vision here at Dryden — to fly what others only imagine. We have been, for years, advancing this technology in our lab, making it applicable for flight by increasing the performance as well as reducing the equipment size needed to implement the interrogation of these fibers. So, when Ikhana came along, we thought that it would be the perfect test bed for us to design a system around. This aircraft presented a great initial test platform with very manageable environmental specifications, adequate space, and power capabilities. We designed a system to actively measure, in real time, strain distribution and shape of the Ikhana's 60-foot wingspan using this fiber optic sensing technology.
NTB: You've been working on developing the fiber optic sensing system that's being tested, which consists of six 20-foot long fibers, each about the diameter of a human hair, attached to each wing. Please explain how the system works and who came up with that concept.
Parker: The concept was originally thought of by a researcher then at NASA Langley, Dr. Mark Froggatt. But Dryden saw the potential and decided that this is an area that we really needed to get involved with. Just imagine — hundreds of strain measurements using a hair sized fiber that's 20 feet long, if only we could reduce the size and increase the overall system performance.
The sensor technology is based on the system's ability to interrogate fiber Bragg gratings as they undergo wavelength shifts as a result of strain or temperature changes. The gratings are serially positioned on a single fiber, spaced every half-inch, up to about a 20-foot long-fiber. With this type of spatial resolution, and using multiple 20-foot fibers like what we have on the Ikhana aircraft, we're able to measure strain and calculate shape at half-inch intervals on the Ikhana's leading and trailing edge wings. The system that is currently installed on the aircraft is capable of interrogating four of the six 20-foot-long fibers simultaneously. That's approximately 2,000 strain measurements that we're making at a rate of about 24 Hz.