Over 24 hours from April 4 to 5, six top French design studios conceived and presented new product concepts for urban environments during the Small Spaces Design Hackathon, presented by Cut&Paste in partnership with Hewlett-Packard. In dense city neighborhoods, homes are small and office space is at a premium, so urban dwellers must be more creative in how they use their space. The design concepts were presented at Cyclone Le Studio as part of ZED, HP's creative popup space.
For the "Hackathon" – a term that combines code "hacking" and the "marathon" of 24-hour design – the goal was to solve the urban space problem using ingenuity and cutting-edge technology. The Small Spaces non-competitive challenge invited design studios to work in a warm, communal environment, with each team following their own work process, blending both digital and physical modeling and presentation. All participating studios retain all rights to their creations, and are encouraged to develop them into full-fledged products.
According to Cesare Zavalloni of Hewlett-Packard Commercial Marketing EMEA, customer insights and big data are central to HP's business, enabling HP to "fully understand what professionals aspire to be; in turn, helping them to achieve their goals. Having extracted and validated insights on what matters to our customers, partners, and professional communities, we discovered an appetite for demonstrating creativity within the design community. In particular, they sought modern design challenges in urban environments, so we came up with the concept of the Small Spaces Hackathon."
Aligning HP with the Small Spaces Hackathon was an easy decision, added Zavalloni. "For 30 years, HP has helped professionals simplify their technology experience. HP workstations are designed to meet the demands of professionals who work with large and complex datasets and intricate 3D models. They set the standard for innovation, speed, performance, and reliability." The Hackathon, he said was an "engaging, community-focused way for HP to demonstrate its technology to the market. Designers and engineers can use the most powerful and reliable HP workstations, combined with innovative software, to showcase their ability and groundbreaking ideas."
The Teams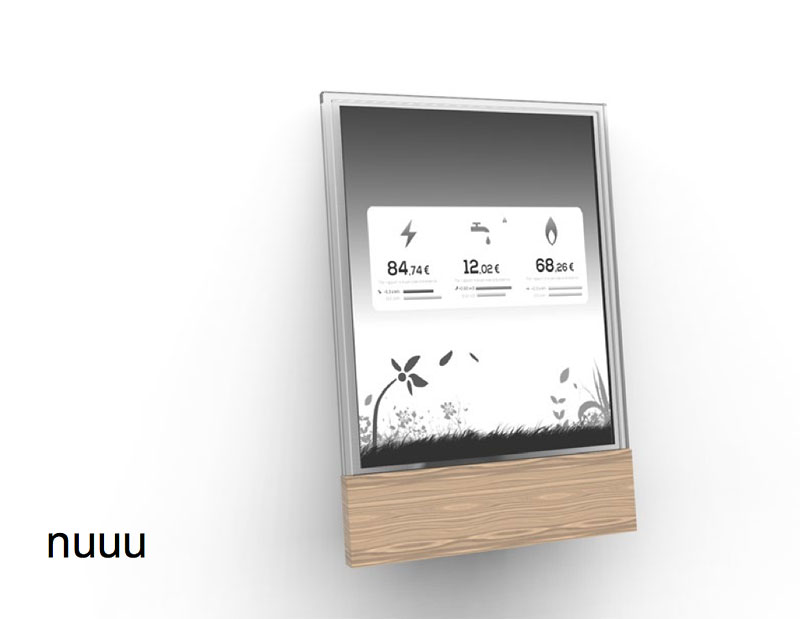 The six invited teams designed products for both indoor and outdoor urban living. Team #1 was Plllus, which created Nuuu, a device that monitors the information you traditionally have at your fingertips, and edits that overwhelming flow down to something manageable and sustainable. It only tells you what you need to know, and it does so in a way that is quiet and unobtrusive. Nuuu is designed to put back emotion into connected products while maintaining a level of disconnectedness that our ever-connected society is missing.
Designer Pierre Duthoit explained that with Nuuu, "we used an e-paper e-reader screen, so you can leave it on all the time. We don't want something that will alarm people with sounds. If something critical happens, you have your cellphone. You plug the device into the wall, and there is an adapter inside to change voltage. The idea is to fix it to the wall – you don't take it around the space with you. It will be connected to your house and all of its connected systems – your heat, your electricity – and tell how much you use."
For Plllus, the aim was to be able to make the product at the end of the competition. "We know it can work," said Duthoit. "We have an engineer who we worked with during the Hackathon, and the first phase would be a prototype to see if people like it and how they react to it. If people react well, why not?"
Listen to the full interview with Pierre.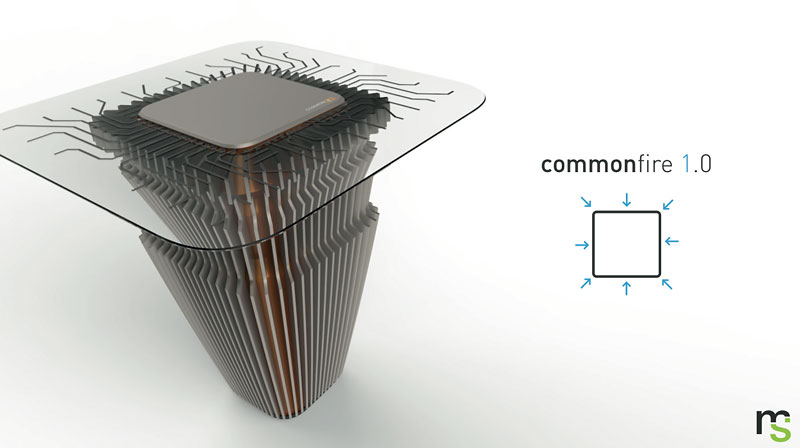 Common Fire was designed by Team #2, Storm Studio, an industrial design agency in Paris. The product is based on the idea of communal social spaces and reduces energy consumption. The device encourages social interaction while building the infrastructure to change the way the user manages electricity.
Designer and Associate Director Michael Imbert explained that Common Fire is based on the idea of people gathered around a fire. "We wanted to take that spirit and have a point to be together in a small space. You can bring your Common Fire and have more power in a room where you have more products. Electricity is the new fire – you cook and do everything with it."
Imbert added that in many spaces, you put a light near a plug in a room because you are constrained by where the electricity is. If the electricity was portable, you could bring your light to wherever you want in the room, and move all your devices around the room.
"We would like to change the way people think about electricity and energy. They are not free, and we need to keep them for the future," said Imbert.
Listen to the full interview with Michael.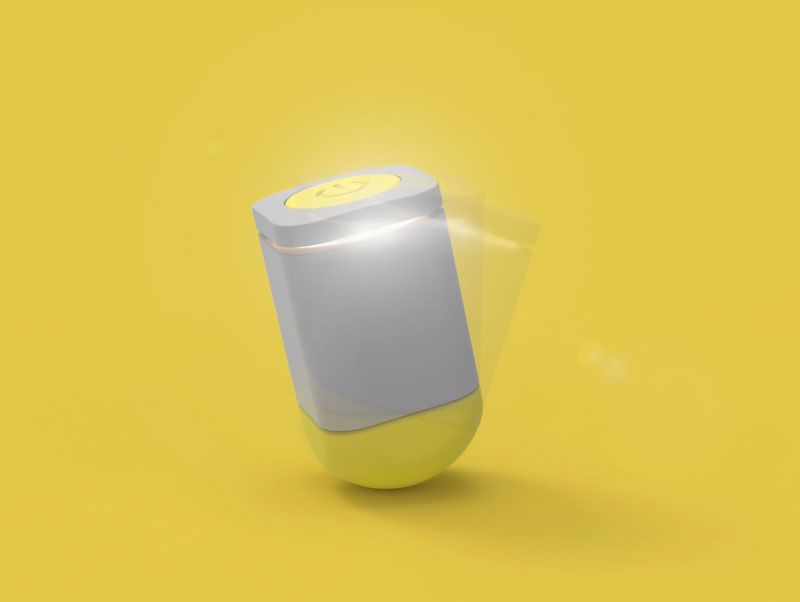 Team #3, Sismo Design, combines the talents of founding partners and industrial designers Antoine Fenoglio and Frédéric Lecourt. Their Hackathon product is Culbuto, an augmented reality game that can be played anywhere, and that brings back the true meaning of multiplayer games.
10PM Lab is Team #4, a French collaborative lab made up of designers, makers, and artists who developed Orbitall, a modular ecosystem that acts as the central hub for a small home. It can be expanded and customized by the user to best function in their environment of connected and intelligent devices.
Samuel Delabarre and Aldric Trouabal of 10PM Lab explained that Orbitall is designed to collect all the connected objects cluttering a space, and put them on the ceiling. Cameras, devices, etc. take up space on a desk, and the objects don't communicate with each other. "We are surrounded by all these electronic devices that take up room in the home, so it was our starting point, and then we decided to create Orbitall, which comes from the idea of a satellite," said Trouabal. "It is a station in the home where all the devices connect on the ceiling. We have done a lot of research, and we wanted to find the right architecture to create that. We tried to create a beautiful object but not with a lot of effects – something quiet and welcoming. More like a beautiful sculpture – not another plastic device."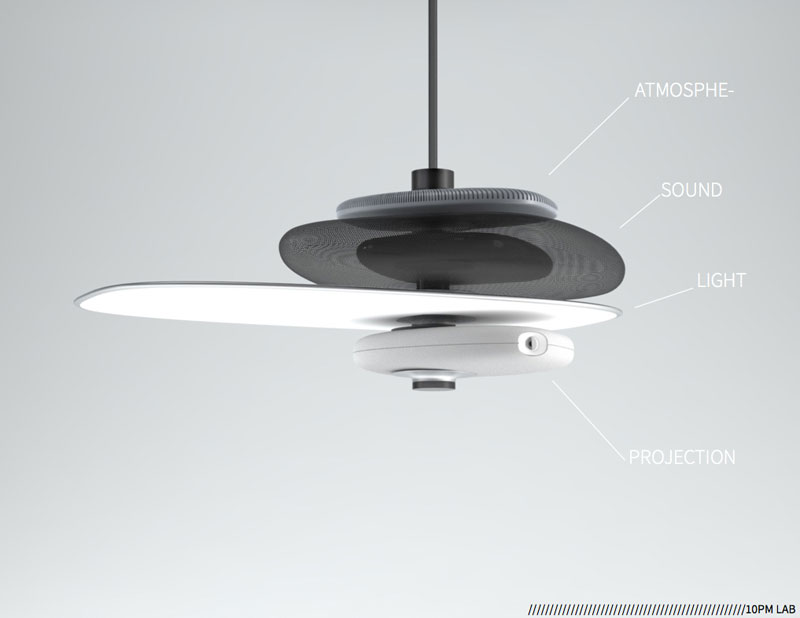 In Orbitall, one system speaks to the other and links with an interface that controls all the modules and the settings. The interface can set an alarm clock to the way you want to wake up – to a quiet song or to breaking news. All the settings are customized to your way of life.
"One of the reasons we chose a modular architecture is to avoid planned obsolescence. You don't have to change all your products when the next technology is on the market. You can upgrade each module separately," said Trouabal.
"We also thought about visual mapping – how to increase a small space in a visual way. You can create a garden view in your room, and change the perspective," Delabarre explained.
Listen to the full interview with Sam and Aldric.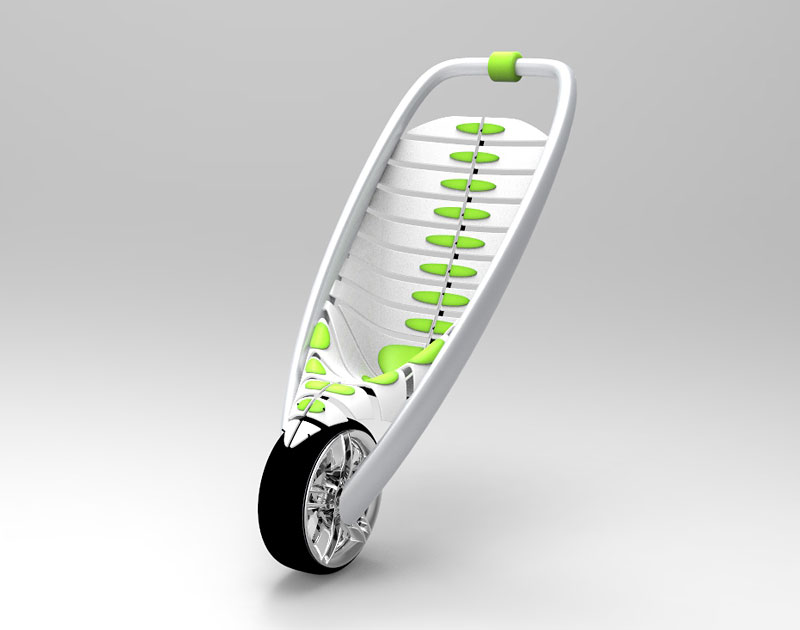 dici Design, Team #5, is a Paris-based design and consulting firm. Emmanuel Thouan and Hugues Touzot noted the challenge of designing related to the problem of small spaces. The result was the Daddy Trolley. Babies are the smallest people in the world, but they take up the largest space. Strollers aren't made to function in an urban environment. The designers created the Daddy Trolley stroller specifically for fathers. It isn't meant for comfort, or safety, but provides a way for fathers to enjoy time with their children.
Team #6, Franck Magné, focuses on interactive design, including products ranging from tableware to charging stations for electric vehicles from a Paris studio. Magné's Hackathon product, called Louis Punk, consists of an object base called Chambord, which was named after the French castle. It is a silver base to which elements of the assembly are attached.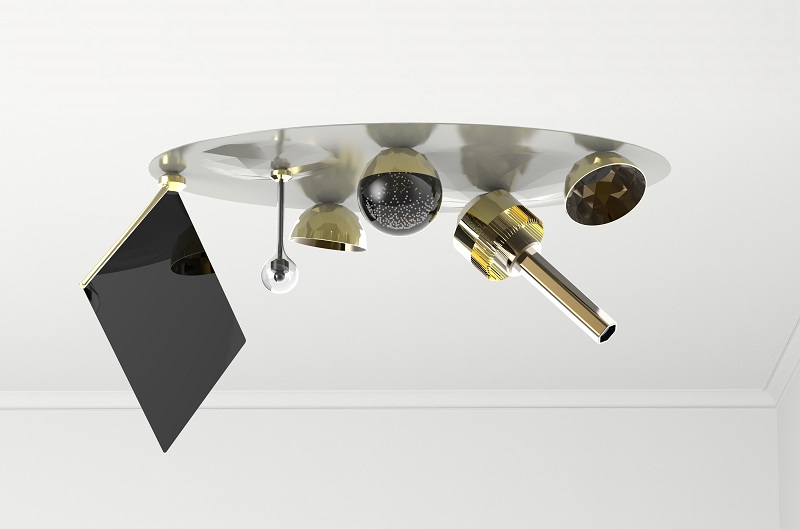 The second "son" of the family is called Louis XIV, and is a canopy that imparts the color of the space lighting – from dynamic light, for example, in the morning, to lounge ambiance in the evening. According to Franck Magné, "this aspect is important because of the assumption we make about small spaces. Lighting changes the perception. You cannot change the space, but you can change the perception of the space.
"With a small space," he added, "you know it so well that often there are no surprises. So we decided to design a family or ecosystem of connected objects that changes the perception of the small space. In this case, decoration meets technology. We want to offer to small spaces the luxury of change. We designed the object to follow you to a bigger space. You can add to the "family."
Listen to the full interview with Franck.
Worldwide Design Innovation
Following the Hackathon, members of the Paris design community were invited to a Demo Party where the teams networked with their invited peers, clients, and press, and gave demos of the work they completed within their 24-hour time constraint. Each member of the participating studio teams received an HP Slate Android Tablet.
According to HP's Zavalloni, events like the Hackathon help HP foster product design innovation worldwide. "Innovators depend on technology as much as knowledge and creativity for continued quality outcomes. Yet most technology decisions tend to be made by IT departments or in the boardroom," he said.
"The purpose of these experiential gatherings, contests, and competitions is therefore to allow product design innovators to experience how technology can impact their work. In doing so, HP is enabling these innovators to be seen, inspired, and ultimately reach their potential."
Let us know which one is your favorite design by posting your comments on our Facebookpage or Twitter.