Page 1 of 3
Automated industrial control systems are an integral part of today's manufacturing facilities. As these systems' capabilities advance, the engineer shifts from someone who oversees processes to one who manages the data produced and functions performed by these systems to ensure product quality. Manufacturing systems need to be reliable, since downtime is an expensive alternative. Automation has reduced the number of people staffed at each facility so, if a system goes down, it's probably not feasible for people to actually step in and move production along. If a system stops, so does production.
Additionally, the manufacturing industry is always striving for more processing power, more multitasking, more functionality. Systems need to be cost-effective and technologically advanced to provide a direct return-on-investment, while being flexible enough to accommodate upgrades and expansions.
Better Balance in System Design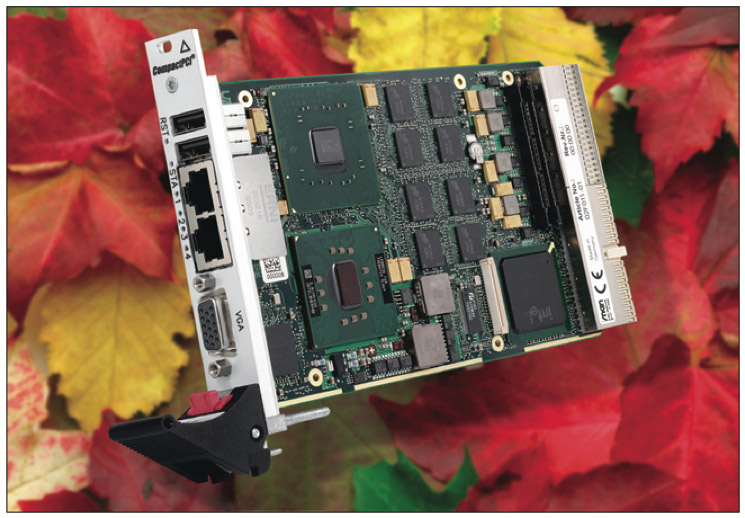 Although industrial PCs have commonly been used in instrumentation and control applications, embedded technology has proven a viable alternative to these expensive, and often unreliable, systems. By combining multi-core processors, job-matched operating systems and application software with advanced chipsets and user interfaces, designers get better development opportunities, while end users get better performance. Each industry using embedded technology has a unique set of requirements as well as a variety of operating conditions and environments. Some applications rely on protective measures, while others need more preventive strategies. In addition to environmental and reliability considerations, industrial automation puts improved manufacturing productivity and minimized system expenses high on its list of requirements.
Multiprocessing Provides Performance
Rugged CompactPCI-based SBCs (single board computers) that combine powerful multi-core processing with robust features are increasingly being used in automation applications since these boards can provide ample performance without excessive power consumption, heat build-up, or latency issues, in a well-accepted industry format. How does multi-core processing solve these issues?
Power consumption: When the clock speed of a processor increases, more transistors and higher input voltages are typically required. Since each transistor leaks a small amount of current, the cumulative effect becomes problematic. The more transistors, the more leakage. Multi-core processors, using two or more cores and more cache, deliver comparable or better performance and lower power demands than leading-edge CPUs running at the highest available clock speeds, preserving power consumption.
Heat build-up: Overheating is not limited to ambient temperatures of an application alone. Thermal management deals with heat generated by system operation, as well. Heat sinks and thermal watchdogs that supervise processor and board temperature are two protective strategies, but multi-core processors provide a preventative way of keeping processing throughput high, while minimizing power draw and the associated effects of heat generation.