MOXA Technologies (Brea, CA) has announced the ThinkCore W300 Series of embedded wireless computers, including the models W311, W321, and W341. The computers are designed specifically for use in harsh industrial environments.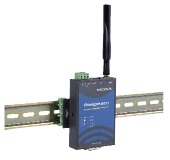 The computers feature an 802.11a/b/g WLAN port; 1, 2, or 4 RS-232/422/485 serial ports; an Ethernet port; and an SD socket. In addition, the ThinkCore W341 features two USB 2.0 ports and one relay output channel into a mini-sized, rugged chassis. All three models use the MOXA ART ARM9 32-bit RISC processor. The embedded computers use existing wired or wireless networks to connect serial devices for numerical computing, protocol conversion, and data processing tasks.
They support 802.11a/b/g protocols, performing the data transmission and device monitoring at the locations that require wireless communication. Data is transmitted transparently and with encryption for greater security. Users can build peer-to-peer, distributed wireless communication embedded systems to make traditional wired devices wireless. The computers feature a pre-installed Linux-based operating system so that software written for desktop PCs is easily ported to the computers using a common compiler. The operating system, device drivers, and software can be stored in the unit's Flash memory.
For Free Info Click Here