Renesas Technology America, Inc. (Tokyo, Japan), has launched two R32C/118 group microcontrollers (MCUs) offering 512KB on-chip flash memory and speeds of up to 48 MHz on the R32C/100 32-bit CISC CPU core.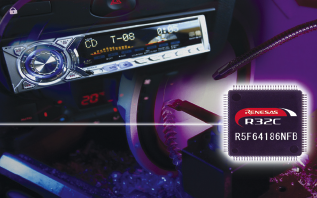 The devices also feature a floating point unit (FPU) that can handle signal-processing tasks such as running controlloop filters and connecting legacy fieldbuses like FOUNDATION™ fieldbus and PROFIBUS. The R32C/118 MCUs also incorporate 8 Kbytes of data flash that eliminates the need for external Electrically Erasable and Programmable Read Only Memory (EEPROM).
R32C/118 MCUs include a CAN module that supports a 32-slot message buffer. Other on-chip peripheral functions include a 9-channel serial interface, watchdog timer, 4-channel DMA controller, 10-bit 26-channel A/D converter, and 8-bit 2-channel D/A converter. There is also a CRC calculation circuit for communication data reliability, and an XY converter circuit for high-speed rotation or enlargement of image data.
For Free Info Visit https://info.ims.ca/10976-408