The KAT6200 quad-core AdvancedTCA® blade from Emerson Network Power (Madison, WI) is a field replaceable ATCA server blade featuring a pair of dualcore, Intel Xeon processors, a high-speed ATCA switched fabric, a mid-size AdvancedMC expansion bay, redundant IPMI system management, and an optional 2.5-inch SAS hard drive.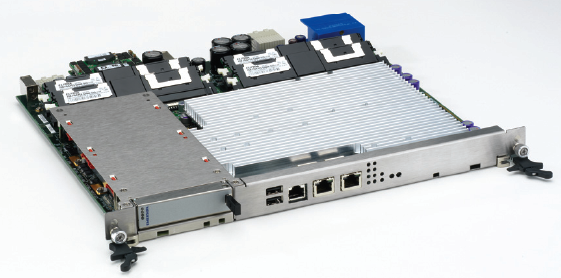 The KAT6200 features a pair of server-class Woodcrest Xeon LV5138 dual-core processors, each running at 2.13 GHz and equipped with four Mbytes of L2 cache. The two processors, utilizing an Intel 5000P Memory Controller Hub, share access to 16 Gbytes of RAM. The KAT6200 also provides carrier-grade features including 16 Mbytes of persistent SRAM for event logging, and redundant two-Mbyte firmware banks, which protect existing firmware in the event of an unsuccessful upgrade.
To maximize system throughput, the KAT6200 provides separate ATCA control/ management and data planes, and a high-performance ATCA fabric interface. An Intel 6321ESB I/O Controller provides two Gigabit Ethernet channels to the ATCA base fabric. The memory controller hub provides two Gigabit Ethernet channels to the ATCA high-speed fabric. The blade's onboard AdvancedMC expansion bay can support a single mid-size, hot-swappable AdvancedMC card, or an onboard 2.5-inch SAS hard drive.
For Free Info Visit http://info.ims.ca/10976-420