Page 1 of 2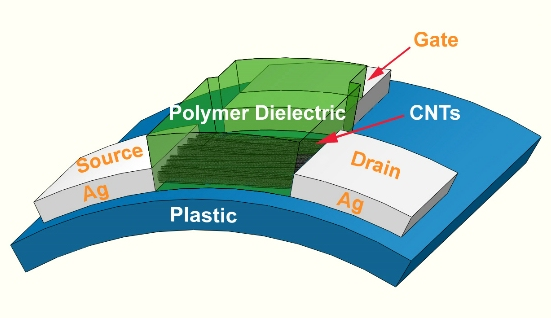 Organic light-emitting diode (OLED)-based displays are used in cell phones, digital cameras, and other portable devices. But developing a lower-cost method for mass-producing such displays has been complicated by the difficulties of incorporating thin-film transistors that use amorphous silicon and polysilicon into the production process.
Researchers from Aneeve Nanotechnologies, a startup company at UCLA's on-campus technology incubator at the California NanoSystems Institute (CNSI), have used low-cost ink-jet printing to fabricate the first circuits composed of fully printed back-gated and top-gated carbon nanotube–based electronics for use with OLED displays. The startup includes collaborators from the departments of materials science and electrical engineering at the UCLA Henry Samueli School of Engineering and Applied Science and the department of electrical engineering at the University of Southern California.
The team made carbon nanotube thin-film transistors with high mobility and a high on-off ratio, completely based on ink-jet printing. They demonstrated the first fully printed single-pixel OLED control circuits, and their fully printed thin-film circuits showed significant performance advantages over traditional organic-based printed electronics.
"This is the first practical demonstration of carbon nanotube–based printed circuits for display backplane applications," said Kos Galatsis, an associate adjunct professor of materials science at UCLA Engineering and a co-founder of Aneeve. "We have demonstrated carbon nanotubes' viable candidacy as a competing technology alongside amorphous silicon and metal-oxide semiconductor solution as a low-cost and scalable backplane option."