Page 2 of 2
Power Clamps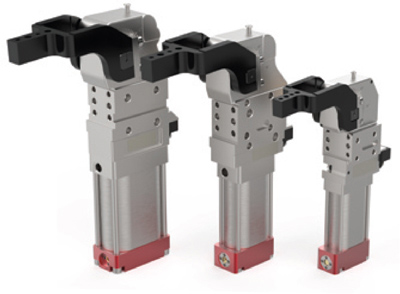 Destaco (Auburn Hills, MI) introduced TCC-2E Series Tolerance Compensation Clamps that provide flexibility in welding and assembly applications that require the clamping of components of differing thicknesses or tighter tolerances. The clamps are suited for flexible manufacturing applications in the automotive, aircraft, and consumer goods industries. The clamps are available in a variety of sizes. They feature an enclosed body that protects the internal mechanism and have been tested to be maintenance-free for three million operating cycles. Various cylinder designs with unlockable non-return check valves, hold-open devices, and rod-lock units are available.
For Free Info Click Here
---
Gimbal Mount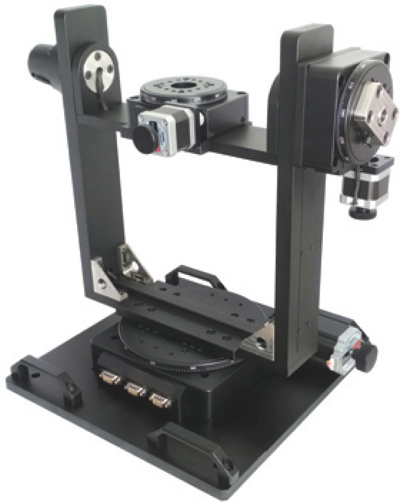 The AU300-AER three-axis gimbal mount from Optimal Engineering Systems (Van Nuys, CA) features full 360° rotation of each axis and handles loads to 10 kg (22.5 pounds). It has a clearance of 300 × 300 mm around the roll axis stage. The azimuth stage rotary table is mounted on a 360 × 360 × 13 mm plate with handles and has predrilled accessible mounting holes for integration into new or existing applications and for increased stability. The three axes are driven by bi-directional stepper motors. Each axis features low-backlash worm gear drives and precision V-groove and cross roller bearings for resolution of 3.6 arc seconds, and repeatability and positional accuracy to 36 arc seconds. Travel speed of each axis is 8 degrees per second. Electrical connections are made using three 9-pin DB-9 connectors.
For Free Info Click Here
---
Torque Motors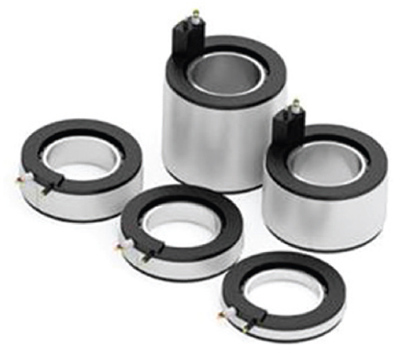 Tecnotion (The Netherlands) offers rotary torque motors with a magnetic design optimized for maximum flux density and copper fill to provide very high torque-to-volume ratios. The motors feature encapsulated windings and include two types of thermistors as standard features. Motor sizes from 68 to 160-mm diameters are available. They can be integrated directly into the machine structure; an open inner diameter enables wire and cable feedthrough. Completely sealed stators and integrated temperature protection and measurement sensors are included. They provide continuous torque ratings ranging from 0.27 Nm to 63.5 Nm and speeds ranging from 190 rpm to 6918 rpm.
For Free Info Click Here
---
Motor Control Integrated Circuit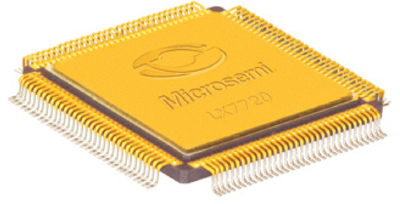 Microsemi Corp. (Aliso Viejo, CA), announced the LX7720 radiation-tolerant motor control integrated circuit that works with a field programmable gate array (FPGA). Features include four half-bridge N-channel MOSFET drivers, four floating differential current sensors, pulse-modulated resolver transformer driver, three differential resolver sense inputs, six bi-level logic inputs, and fault detection. The circuit also features 100-krad total ionization dose (TID) and 50-krad enhanced low-dose radiation sensitivity. Power drivers are via external field-effect transistors (FETs).
For Free Info Click Here
---
Motion Tester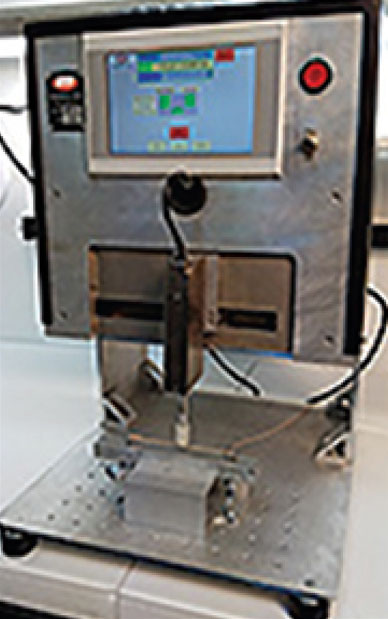 Norman Tool (Evansville, IN) offers the 2-Axis Motion Pro Tester that simulates both finger pushes and finger swipes. It is designed to provide a range of finger pressing and/or sliding/rubbing motions to be used for contact and button testing, as well as to test for wear and durability. The machine can test all types of buttons and switches, as well as monitors, screens, displays, and anything that may get wear from human fingers or other similar types of rubbing, pushing, or sliding. The system also tests membrane switches, silicone keypads, and computer keys.
For Free Info Click Here
---
Stepper Motors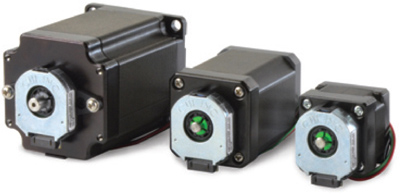 The NEMA-AMT112S stepper servomotors from CUI's Motion Group (Tualatin, OR) are available in NEMA 8, 11, 14, 17, and 23 frame sizes with a step angle of 1.8° and holding torques ranging from 3 to 270 oz-in (0.021 to 1.90 N-m). When paired with a controller, the motor and encoder combination provides closed-loop feedback for a complete servo system. Integrated with the stepper motors is the AMT11 incremental encoder series that features 22 programmable resolutions from 48 to 4096 PPR, a digitally set zero position, and CMOS voltage output waveforms. The resolutions are fully programmable without having to remove the encoder from the motor.
For Free Info Click Here
---
Planetary Gearboxes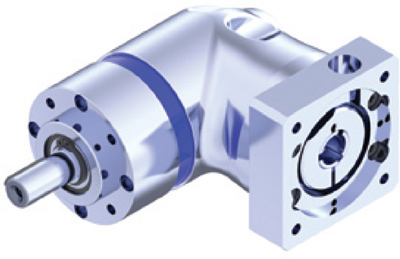 GAM (Mount Prospect, IL) released EPR and PER Series right-angle bevel planetary gearboxes. Featuring a spiral bevel gear input to an inline planetary gear output, the gearboxes are available in ratios of 3:1 to 1000:1 and in a wide range of sizes and configurations. The EPR Series features five output options including three different shaft outputs, a hollow shaft output, and a flange output. The PER employs output bearings and is used in motion control applications where axial and radial loads are minimized. The PER has a metric or NEMA shaft output option. Both are available with motor mounting plates to accommodate most servomotors.
For Free Info Click Here