Page 1 of 2
Motor/Drive/Controller

Advanced Micro Controls (Terryville, CT) offers a size 17 PLC-based SMD Series integrated stepper motor/drive/controller system. The integrated solutions are suited for new machinery, retrofits, and rapid changeover applications. The SMD17E2 (NEMA 17) integrated motor combines an 80-oz. in. (0.56 N-m) torque stepper motor with a DC drive and Ethernet/IP and Modbus-TCP interface in a single, compact design. The embedded Ethernet switch simplifies multi-axis applications and optional encoder feedback eliminates the need for a separate home limit switch. The motors feature built-in EtherNet/IP and Modbus-TCP network connectivity, embedded Ethernet switch, SynchroStep™ technology, optional integrated encoder (incremental or multi-turn absolute), IP67-rated versions, gearboxes, and compatible cord sets. All of the motors are programmed from the host controller, so no separate software is needed.
For Free Info Visit Here
---
Integrated Motors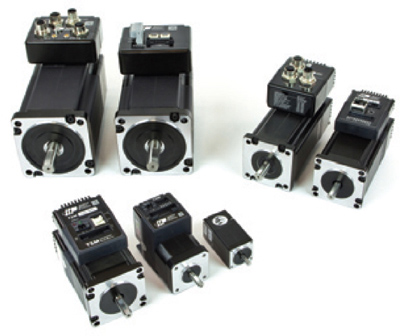 Applied Motion Products (Watsonville, CA) introduced three models of StepSERVO™ integrated motors that provide high-speed motion control for high-throughput applications such as automated test and measurement, and automated assembly. Using closed loop feedback and advanced control technology, the motors create more torque for higher acceleration. The motors draw just enough current to control the load, automatically reducing current to the motor when the load is not demanding torque. The TSM Series features 8 digital inputs, 4 digital outputs, and 1 analog input, and supports RS-232, RS-485, CANopen, Ethernet, EtherNet/IP, and Modbus communications. SSM Series motors feature 3 digital inputs, 1 digital output, and 1 analog input. TXM Series motors combine the features of the TSM Series with IP65-rated environmental capabilities and M12 connectors for operating in wet and dusty environments.
For Free Info Visit Here
---
Planar XY Stage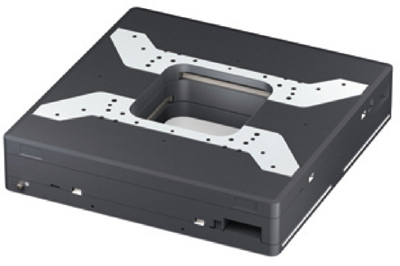 PI L.P. (Auburn, MA) offers the V-738 XY translation stage designed in a three-piece arrangement for improved geometric performance. The integrated planar design provides orthogonality of <100 μrad and straightness/flatness of 2 μm. Three-phase brushless linear motors drive both axes, transmitting the drive force (200N peak) to the motion platform directly without friction. The ironless motors provide smooth running with velocity control due to the lack of cogging effects caused by permanent magnets. Acceleration of 1G is achieved with maximum velocity of 0.5 m/sec. The XY-travel range is 100 mm per axis. Other models in the series include the V-731 XY stage with 200 × 200-mm travel and the V-741 XY stage with 300 × 300-mm travel. Integrated optical linear encoders provide position resolution down to 1 nanometer. Mechanical position repeatability is 0.1 μm and minimum incremental motion of 20 nanometers is achieved.
For Free Info Visit Here
---
Electric Linear Actuators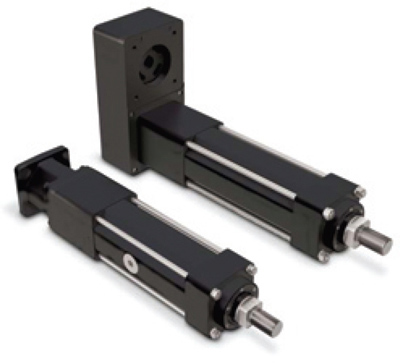 The RSX family of extreme force electric linear actuators from Tolomatic (Hamel, MN) features precision-ground planetary roller screws for reliable performance in demanding conditions including cold weather operation. The family includes two frame sizes capable of achieving 18,000 lbf to 30,000 lbf (80 kN to 133 kN) max force. Features include a Type III hard coat anodized aluminum housing to withstand demanding environments; standard thrust rod anti-rotation; IP67 rating for water, dust, and corrosion resistance; and compatibility with servomotors and gearboxes up to 215-mm frame sizes. The actuators are available with white epoxy coating and stainless steel thrust rod.
For Free Info Visit Here
---
Rotary Actuator System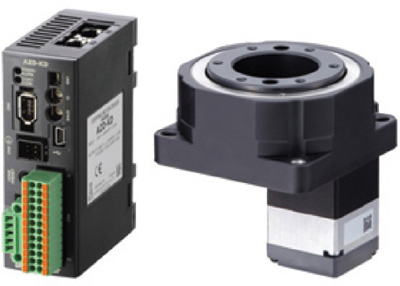 Oriental Motor (Torrance, CA) introduced the 60-mm frame size DGII rotary actuator equipped with an AlphaStep AZ Series absolute encoder stepper motor. The rotary actuator is used with four types of AZ Series DC input drivers (stored data type, pulse input driver with built-in RS-485 communications, pulse input type, and multi-axis driver with EtherCAT communication). It is a complete rotary actuator system that eliminates the need for additional sensors. It can work in applications where step and direction are required or in applications where PLC or touch-screens (HMI) are being used, without the need for additional modules connected to the PLC. The system is compatible with a wide range of master controller types and control methods.
For Free Info Visit Here
---
Accelerometer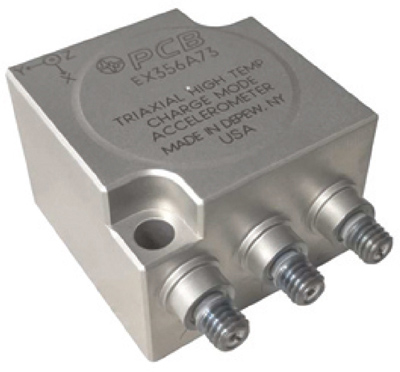 PCB Piezotronics (Depew, NY) released the Model EX356A73 triaxial charge accelerometer designed for use in environments with ambient temperatures up to 900 °F/482 °C. It features a frequency range up to 4,000 Hz with a ±5% tolerance, and is packaged in a nickel alloy, hermetically sealed housing with three 1032 coaxial jacks. It also utilizes a UHT-12 sensing element with no pyroelectric output, reduced thermal noise spikes that eliminate false alarms during monitoring, and shear mode crystals to prevent base strain and transverse measurement errors.
For Free Info Visit Here
---
Absolute Encoders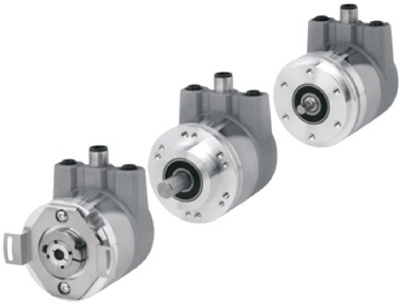 Encoder Products (Sagle, ID) introduced Models A58HE and A58SE EtherCAT-ready, multi-turn absolute encoders designed for harsh factory and plant environments. They are particularly suited to applications where Fieldbus connectivity is required and the encoder has to retain absolute position information after power-off events. The A58HE is a 58-mm encoder in a hollow bore construction; the A58SE is a 58-mm shaft encoder available with either a clamping flange or synchro flange. Features include multi-turn resolution up to 43 bits, up to 16 bits of single-turn resolution, bore sizes to 0.375" or 15 mm, shaft diameters to 0.375" or 10 mm, operating temperature range of -40 to 85 °C, and continuous digital position monitoring.
For Free Info Visit Here