Page 2 of 2
HUD Application
A head-up display (HUD) is a transparent instrument that presents data in the users' line of vision, while enabling continual monitoring of the external environment. The user can be a pilot or an occupant of a vehicle. The user does not have to shift their eyes away from their usual viewpoint, while being provided with detailed, additional information.
HUDs were initially developed for military aviation during World War II to support pilots in viewing navigational and targeting information, while still being able to focus ahead. However, they are now used in a variety of other industries, including commercial aircraft and automobiles.
Since then, the photonic technology used within HUDs has allowed for sophisticated waveguide optics permitting light to be guided by a more compact system, which can also be designed for applications such as night vision systems.
Innovative and game-changing HUD solutions come with single or multiple color-selective notches, selected for specific wavelengths to be reflected. In turn the process can also enhance contrast and improve transmission. Angle-of-incidence compensated coatings offer consistent brilliance across the entire display, while amplitude graded combiners that give seamless display balance are also available (Figure 4).
HUD combiners can either be single or dual plated, which depends on the technology needed to best fit the application. A dual combiner HUD – with display port and amplitude grade – folds the light, allowing more information in the same space.

The HUD system gives pilots a greater field of augmented vision throughout all phases of flight, especially take-off and landing, and provides pilots with essential, intuitive and immediate trajectory information through symbols overlaid on top of the pilot's actual external view.
The future is looking bright for HUDs. In the UK, Artemis worked on the SmartHUD project, part funded by the National Aerospace Technology Exploitation Program (NATEP), to deliver solutions for the next generation of HUDs to BAE Systems, in partnership with Plessey Semiconductors. The aim of the program was to support the development of a dual plate head-up display assembly based on LED technologies and using unique, newly designed thin film coatings. This offered advantages such as reduced weight, longer useful life of the light source and enhanced optical performance of the overall module.
Civil HUDs are becoming mandatory for safety reasons, which will see a vast increase in the number of HUDs being manufactured along with a larger need for optical coatings for HUD applications. In 2012, the Civil Aviation Administration of China (CAAC) announced that all Chinese airlines and commercial aircraft flying into Chinese airspace would be required to use HUDs within their aircraft by 2025.
HUDs are a form of augmented reality (AR), as data is being overlaid onto a real-world view. With Industry 4.0 hitting a peak in 2017, the HUD and optical technology market can only benefit from the heightened awareness around technologies that can change everyday life, including AR headsets.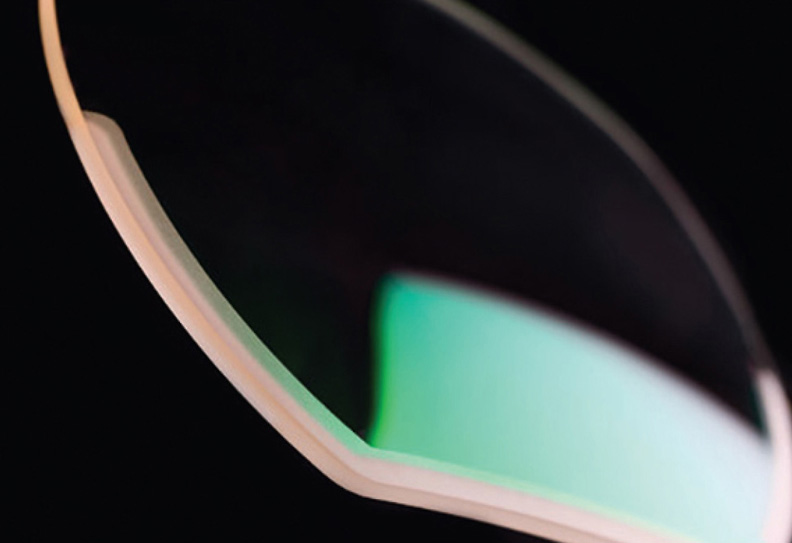 Harnessing the use of HUD technology, Artemis and Plessey will be partnering once again to improve AR headsets. The project will utilize Plessey's groundbreaking IP protected monolithic microLED GaN-on-Silicon technology to address the limitations currently faced in the field of photonics and headsets when using competing technologies, such as sapphire and OLEDs.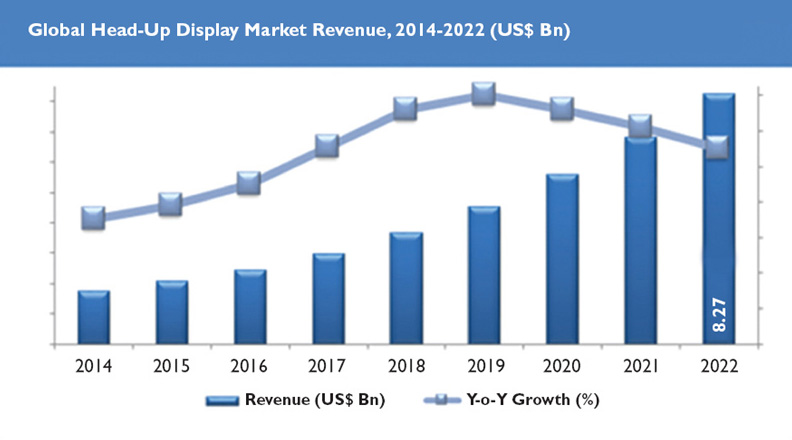 By applying Plessey's monolithic microLED technology, manufacturers can overcome challenges such as productivity, uniformity, thermal performance and brightness. This will then allow for smaller, high-resolution and luminance displays for a range of AR applications.
The fully monolithic approach also supports the integration of standard CMOS circuitry necessary for driving microLED displays, as well as the close integration of high performance graphic processing units (GPU's), all of which can be carried out using standard CMOS manufacturing methods.
With the global head-up display market set for growth, and the overall photonics market estimated to grow around 6% each year (Figure 5), the opportunities for military and aerospace optics technology is huge.
This article was written by Kevin Mackrodt, Chief Technical Officer, Artemis Optical (Plymouth, UK). For more information, contact This email address is being protected from spambots. You need JavaScript enabled to view it. or visit here .