Page 1 of 2
High-Speed Cameras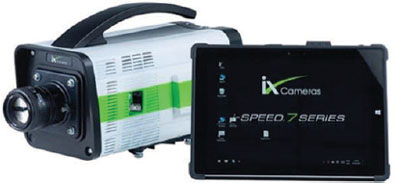 iX Cameras (Woburn, MA and Rochford, UK) has added a new, value-priced camera to the premium ultra-high-speed i-SPEED 7 Series line. The new i-SPEED 713 is designed for a wide range of applications including drop testing, airbag testing, and manufacturing, which demand the highest resolution but not necessarily the fastest speed available.
The affordable entry-level i-SPEED 713 features a custom high-resolution 2048 x 1536 pixel sensor providing a maximum frame rate of 500,000 fps, combining for 13 GP/sec throughput. The i-SPEED 7 Series cameras are packaged in an instrumentation version or an optional rugged, High-G-rated version designed to resist shock. Added options include swappable SSD flash memory cartridges for quick data transfer and 1-hour batteries for field work and backup in the event of power failure.
For Free Info Visit: here
---
Compact, High-Resolution Lens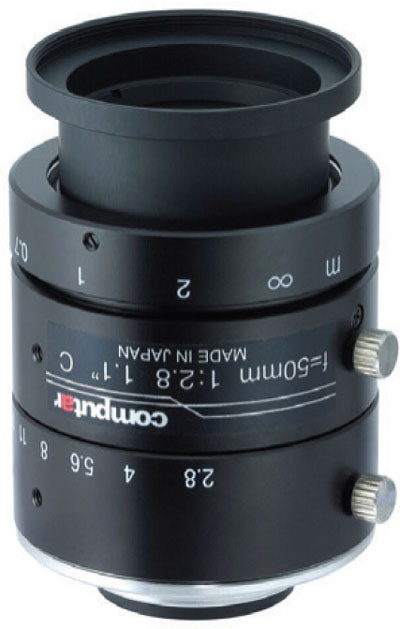 The new 12 megapixel resolution MPY 1.1" C-Mount lens series from Computar (Cary, NC) will work with the SONY Pregius IMX253 and IMX255 image sensors. The lenses are designed to enable the high image quality of the high-resolution SONY sensors to be fully utilized in machine vision, life science, and ITS applications. The lenses support pixel sizes of tip to 3.45 μm and are available in fixed focal lengths of 8, 12, 16, 25, 35, and 50 mm.
According to the manufacturer, these are the smallest 1.1" lenses in the 10 megapixel class. The MPY series with its 17 mm image circle allows the high image quality and resolution of the SONY Pregius IMX253 and IMX255 sensors to be fully utilized without vignetting.
For Free Info Visit: here
---
Fiber Optic Ribbon Cable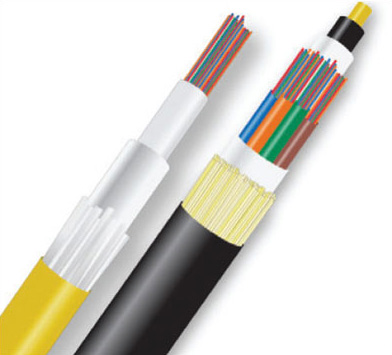 OFS (Norcross, GA) is expanding its AccuTube® "ribbon in loose tube" cable product line by offering the new AccuTube+ Rollable Ribbon (RR) Fiber Optic Cable. Available with 1728 and 3456 fibers, these cables can be installed in common 1¼" and 2" ducts, respectively. According to the manufacturer, the cables offer the significant time and cost savings benefits of 12-fiber mass fusion splicing, as compared with single fiber splicing, while getting the highest fiber density.
In a rollable ribbon cable, 12 fibers are connected intermittently by matrix material to form a very flexible ribbon, allowing the ribbons to be rolled into tight bundles, doubling the fiber density. These fibers can then be unrolled into a ribbon that can be spliced with traditional flat ribbon machines and procedures.
For Free Info Visit: here
---
LED High Power Light Source for UV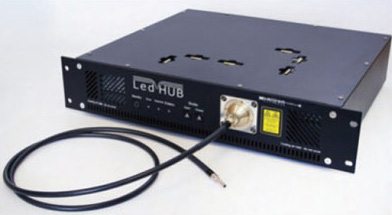 The "LedHUB" LED light engine from Omicron (Rodgau-Dudenhofen, Germany), is now available down to 340nm. The system can be equipped with one to six LED modules with wavelengths from 340nm in UV up to 940nm in near IR. Analog intensity modulation up to 200 KHz and digital modulation with a switching time of <2μs for each channel are available. Up to 5-milliwatt optical output power LEDs can be used.
Temperature control of the chips provides stable power level and emission spectra. LED outputs are combined by optics and can be coupled into quartz glass fibers or liquid light guides. Filter holders can be equipped with 25 mm standard filters to adapt the emission of each LED to a particular application. Modulation can be via external signal or by an internal programmable signal generator. SYNC in- and out enables synchronization with external devices like cameras, microscopes, or DAC cards.
For Free Info Visit: here
---
Non-Contact Measurement Systems

The Swift PRO series, non-contact measurement systems from Vision Engineering, (Surrey, UK) are designed to deliver fast and accurate 2- and 3-axis measurements. They are available with optical, video, or both. The systems are equipped with a high definition video camera and easy to use software and are available with either an 8" × 4" (200 mm × 100 mm) or 6" × 4" (150 mm × 100 mm) measuring stage.
Iris control of the substage lighting, which provides even illumination across the field of view, and surface quadrant LED lighting are controlled through the software.
The series includes Swift PRO Cam — an entry-level video measuring and inspection system with a HD video camera and large measuring stage; Swift PRO Duo — which incorporates both video and optical technologies, allowing for seamless switching between video and optical measurements; Swift PRO Elite —which provides accurate measurements, even for difficult subjects such as black or transparent plastics.
For Free Info Visit: here
---
High Power Laser Diode Cooling Solutions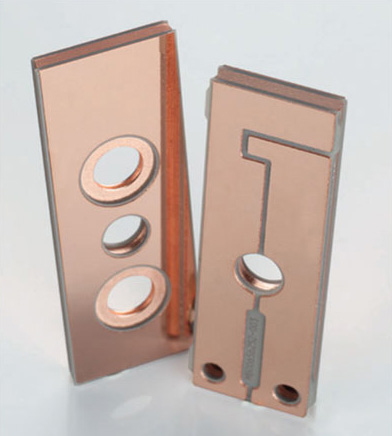 Curamik® CoolPerformance Plus is the latest cooling material from Rogers Corporation (Eschenbach, Germany). It is an advanced liquid-cooled material designed to dissipate large amounts of heat and provide reliable thermal management of high-power laser diodes operating at power levels to 200W or more.
CoolPerformance Plus coolers build upon the cooling approach employed in Rogers Curamik CoolPerformance coolers. Both types of coolers feature several layers of pure copper. The copper foils are formed into hermetic, three-dimensional microchannel or macrochannel water-cooled structures capable of dissipating large amounts of heat in small areas. In addition, they also have aluminum-nitride (AlN) isolation layers, which separate the cooling water channels from the electrical contacts of the laser diodes. They provide a close match in coefficient of thermal expansion (CTE), in the range of 6 to 7 ppm/K, between the copper cooling structures and the laser diode packages.
For Free Info Visit: here