Page 2 of 2
Industrial Diode Laser System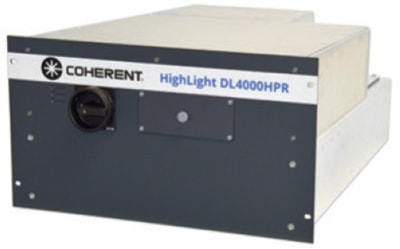 The new Coherent (Santa Clara, CA) HighLight® DL4000HPR is a compact, high power, fiber delivered industrial diode laser system for metal processing applications such as cladding, heat treating and brazing.
The HighLight DL4000HPR features a small footprint and standard, 19" rack mount packaging. Additionally, the power supply and control electronics are contained in the system enclosure. Another significant advantage of the product is that its conduction-cooled diodes do not require deionized cooling water. Finally, its wall plug efficiency of 45% means low energy consumption.
The HighLight DL4000HPR delivers 4 kW at a wavelength between 920 nm and 1100 nm, through a detachable, 1000 μm diameter delivery fiber. A variety of output delivery fiber and beam shaping/ focusing optics and connectors are available.
For Free Info Visit Here
---
Photodetectors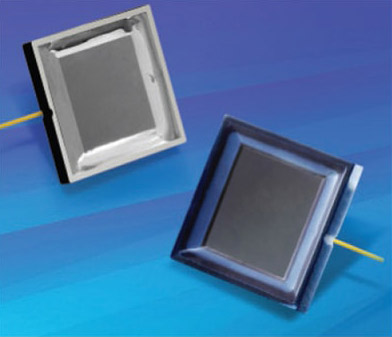 Opto Diode Corporation (Camarillo, CA), an ITW company, introduces two photodetectors, the AXUV100TF030 and AXUV100TF400, with 100 mm2 active areas and directly deposited thin-film filters for extreme ultraviolet (EUV) detection.
The AXUV100TF030 features typical responsivity of 0.16 A/W at 3 nm and has a detection range from 1 nm to 12 nm. The AXUV100TF400 features typical responsivity of 0.15 A/W at 40 nm with a detection range from 18 nm to 80 nm. Both devices are shipped with a temporary protective cover and have superior stability for robust operation in extreme ultraviolet environments. Operating and storage temperatures range from -10°C to +40°C in ambient environments and from -20°C to +80°C in nitrogen or vacuum environments.
For Free Info Visit Here
---
Laser Scanner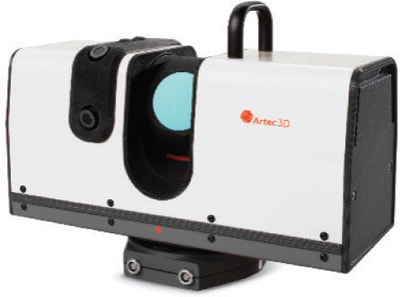 Exact Metrology (Brookfield, WI) announced its new Artec Ray laser scanner. Ideal for scanning large objects like wind turbines, ship propellers, airplanes, and buildings, the Artec Ray offers ultra-high precision and speed. With the ability to scan up to 110 meters away, this scanner offers submillimeter distance accuracy, as well as angular accuracy. In addition, data capture is clean and noise levels are kept to an absolute minimum, reducing post-processing time.
To scan with Artec Ray, users need only place it on a tripod in front of the object they wish to scan and press the button. Once scanned, the scan is processed directly into the Artec Studio, then seamlessly exported to Geomagic Design X. There's no need to worry about finding a power source, since the internal battery lasts up to 4 hours. Artec Ray can be paired with Eva or Spider handheld Artec scanners to scan hard-to-reach areas such as the interiors of cars or add intricate detail to a large-scale 3D model.
For Free Info Visit Here
---
Integrating Sphere Source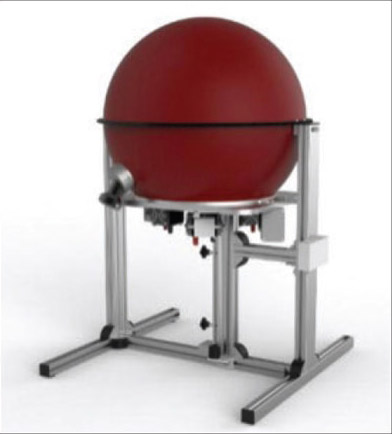 Fisheye lenses are used on cameras to create a hemispherical (panoramic) photographic image over a very wide angle >180°. Since these cameras map a hemispherical image in front of the objective lens on the image plane, reference calibration light sources with a hemispherical illumination field over this wide area are required for testing and matching uniformity.
Gigahertz-Optik's (Amesbury, MA) ISS-50-LU-FE Integrating Sphere Source provides a highly homogeneous luminance distribution and enables white balancing with three different light spectra adapted to different lighting conditions to suit the intended applications. Gigahertz-Optik's SC-05 System Controller with touch-screen display powers and controls the ISS-50-LU-FE using electronic modules that are specifically designed to meet the requirements of the uniform light source, its three lamps, the interchangeable filter wheel, variable apertures, and the RGB monitor detector.
For Free Info Visit Here
---
Chromatography Software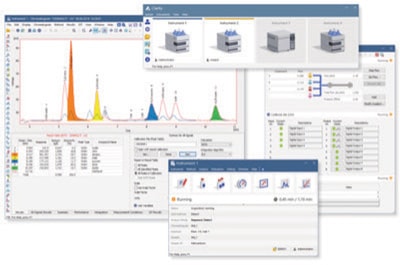 DataApex (Prague, Czech Republic) recently introduced Clarity version 8.0 that features a graphically enhanced user interface. New functions and enhancements have been added to the GLP and MS options. The portfolio of controlled instruments has been expanded, resulting in more than 700 supported instruments in the Clarity 8.0 software platform. Existing users of Clarity Chromatography Software can update to the new version free of charge.
Among the enhancements included in version 8.0 are new Clarity file icons; a completely new look and feel for the Clarity main, Device Monitor, and Instrument windows; redesigned Method Setup dialog; redesigned Single Analysis dialog; improved security of password file; and numerous bug fixes to improve performance.
For Free Info Visit Here