A tool has been devised to facilitate the accurate placement of a seal ring between the hubs of two pipe flanges that are to be clamped together. Heretofore, technicians have resorted to impro- visations that have included, variously, insertion of a ring with fingertips, lowering a ring into place by use of string or tape, sticking a ring to one hub by use of grease while the other hub is brought into alignment, and/or positioning a ring by use of a screwdriver or knife. All of these improvisations entail susceptibility to incorrect placement of the ring and contamination of sealing surfaces. Moreover, by inserting fingertips in the narrow pinch gap between the hubs, a technician risks injury.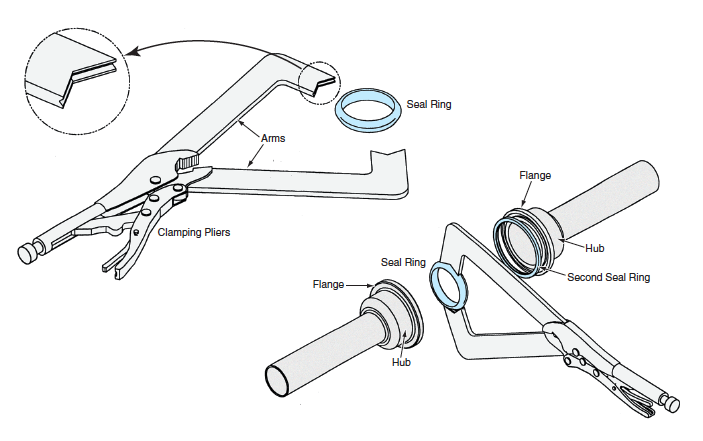 The present tool makes it possible to position the seal ring accurately, without risking either contamination of sealing surfaces or pinch injuries to fingertips. The tool accommodates a wide range of seal-ring dia- meters and a variety of seal cross sections. It can be adjusted to the proper starting diameter and made to clamp the seal ring gently but securely so that it holds the seal ring until it has been properly placed. Once the ring has been clamped by the tool, the ring can be installed between the pipe-flange hubs, set aside, or handed to another technician, all without releasing the ring. Once the seal ring has been installed between the hubs and the hubs have been positioned for final clamping, a slight force on one tool handle initiates the release of the seal ring from the tool, and the tool can then be withdrawn.
The tool (see figure) consists of a pair of locking pliers to which a pair of integral or separable arms have been added. The mutually facing ends of the arms are tipped with V-groove jaws that are angled to hold the seal ring securely. If the arms are separable, then there can be multiple pairs of arms, each pair optimized for a particular range of seal-ring diameters and/or cross sections. If necessary, the flat sides of the arms can be used simultaneously to hold a second, larger-diameter seal ring in a groove in one of the hubs while the jaws of the tool hold a first seal ring as described above.
This work was done by L. Haynes Haselmaier, Sr., of Mississippi Space Services for Stennis Space Center.
This invention is owned by NASA, and a patent application has been filed. Inquiries concerning nonexclusive or exclusive license for its commercial development should be addressed to the Patent Counsel, Stennis Space Center; (228) 688-1929. Refer to SSC-00120.