A system has been developed to acquire and handle samples from a suspended remote platform. The system includes a penetrator, a penetrator deployment mechanism, and a sample handler. A gravity-driven harpoon sampler was used for the system, but other solutions can be used to supply the penetration energy, such as pyrotechnic, pressurized gas, or springs. The deployment mechanism includes a line that is attached to the penetrator, a spool for reeling in the line, and a line engagement control mechanism.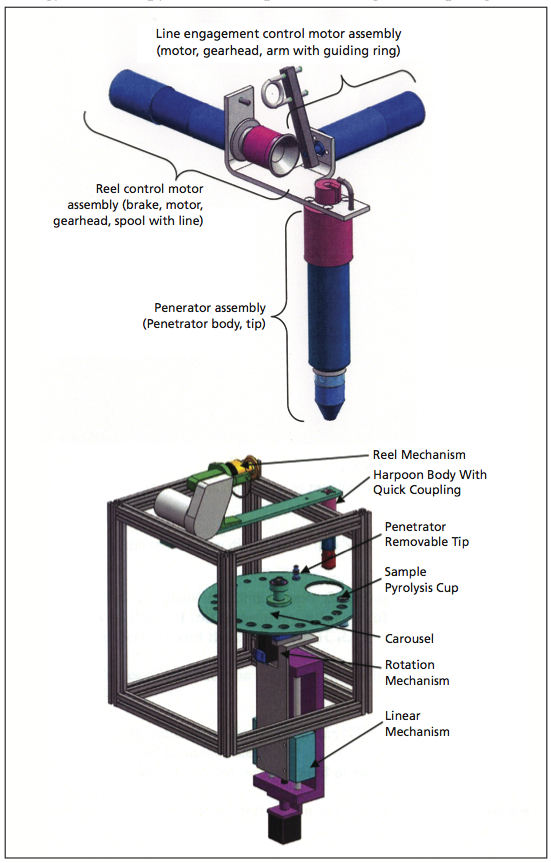 The penetrator has removable tips that can collect liquid, ice, or solid samples. The handling mechanism consists of a carousel that can store a series of identical or different tips, assist in penetrator reconfiguration for multiple sample acquisition, and deliver the sample to a series of instruments for analysis. The carousel sample handling system was combined with a brassboard reeling mechanism and a penetrator with removable tips. It can attach the removable tip to the penetrator, release and retrieve the penetrator, remove the tip, and present it to multiple instrument stations. The penetrator can be remotely deployed from an aerobot, penetrate and collect the sample, and be retrieved with the sample to the aerobot.
The penetrator with removable tips includes sample interrogation windows and a sample retainment spring for unconsolidated samples. The line engagement motor can be used to control the penetrator release and reeling engagement, and to evenly distribute the line on the spool by rocking between left and right ends of the spool. When the arm with the guiding ring is aligned with the spool axis, the line is free to unwind from the spool without rotating the spool. When the arm is perpendicular to the spool axis, the line can move only if the spool rotates.
This work was done by Mircea Badescu, Stewart Sherrit, and Jack A. Jones of Caltech for NASA's Jet Propulsion Laboratory. For more information, download the Technical Support Package (free white paper) at www.techbriefs.com/tsp under the Mechanics/Machinery category. NPO-46585