Page 1 of 2
A unique dual-flow, cold-jet facility has been developed and operated by California Polytechnic State University (Cal Poly) at San Luis Obispo for NASA Dryden Flight Research Center. The facility supports flight research on thrust-vectoring nozzles and thrust-vector control systems. To date, the facility has completed tests on subscale nozzles of the F/A-18 High Alpha Research Vehicle (HARV), the X-31 airplane, and the F-15 Advanced Control Technology for Integrated Vehicles (ACTIVE).
The facility contains a nozzle flow bench (see Figure 1) that incorporates unique features for research on single nozzles and on twin nozzles, which afford the ability to evaluate flow-interaction phenomena. Subscale nozzles are typically mounted on top of a thrust stand on the bench and connected to the end of an airflow-supply tube. The thrust stand is of a multiaxis design that affords capabilities for measuring all components of thrust and moment vectors.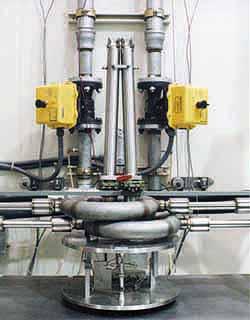 A manifold system that supplies air to each nozzle independently is designed to avoid the introduction of extraneous side loads. The manifold system includes a plenum and bellows. Airflows at approximately equal rates are supplied on opposite sides of the plenum in order to cancel momentum and pressure effects that could otherwise be attributed to the air supply. This manifold design virtually eliminates extraneous forces from the air supply. In the dual-flow configuration, the flow rate or pressure ratio of each nozzle is independently controlled, providing maximum flexibility in testing.
The development of both the thrust stand and the air-supply manifold has made it possible to perform accurate research on thrust vectoring with small-scale nozzles. A capability for color schlieren photography has also been developed, making it possible to obtain visible records of complicated exhaust-flow fields and shock structures (for example, see Figure 2). A color schlieren video apparatus has also been built for use in evaluating the stability of exhaust -flow fields.
To verify the accuracy of the cold jet, a single 1/24-scale F/A-18 HARV nozzle configured with postexit vanes was tested in this facility, and the results of the tests were compared with those of similar tests performed on a larger-scale model at Langley Research Center. These tests also enabled detailed evaluation of a postexit-vane-tip interference effect that was pronounced at higher pressure ratios.
Additional single-nozzle tests were performed on the X-31 nozzle configuration to evaluate the effects of extreme deflections of postexit vanes. Static-pressure ports were added to the divergent section of the nozzle to obtain data pertinent to concerns about operability. The results of these tests supported the implementation of a 10° increase in deflections of nozzle postexit vanes on the X-31 airplane during its flight-test program, helping the aircraft achieve greater maneuverability.