Highly toughened, expandable structural adhesives reliably join gaps while adding strength and rigidity to body-in-white structures, chassis, and closures. When used in vehicle body construction between sheet metal cavities, these hybrid epoxy adhesives enhance the structural performance of the vehicle with minimal weight penalty as compared to alternative solutions. These products help provide superior joint quality with better adhesion in areas difficult to bond with their non-expanding counter parts. The technology has been successfully implemented in body shops to reinforce roof structures, panoramic roofs, and body structures to improve crashworthiness.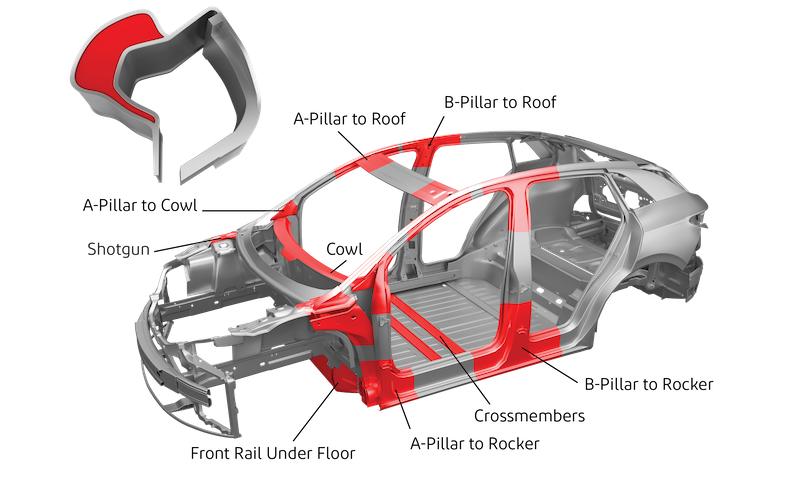 This 60-minute technical Webinar will discuss how these new solutions can provide benefits beyond non-expandable adhesives, including a look at real-world case studies. This technology also can be used to augment the joining of similar and dissimilar substrates in areas of the vehicle where weld access may be limited and where design gaps can vary.
An audience Q&A follows the technical presentation.
Speakers:
Frank Billotto, AMS Business Development Leader, DuPont

Frank Billotto identifies and develops innovation that supports DuPont's business strategy for advanced mobility in the Americas. Responsible for business growth, he collaborates with global and regional teams to identify targeted market trends and leads the execution of marketing strategies. Frank represents DuPont on the NAATBatt trade association Board of Directors and is also an active member of the Adhesives & Sealants Council Task Force and the SAE Battery Systems Adhesive, Sealants, and Heat Transfer Materials Committee.
Ray Bis, Senior Research Engineer, Structural Adhesives, DuPont

Ray Bis is responsible for technical service and development of structural automotive adhesives for DuPont. He has more than 30 years of experience in formulation, product launches and troubleshooting in the industry. Ray has worked with a wide variety of chemistries that include PVC sealers, two-part urethanes, epoxy pressure sensitive reinforcements, and highly toughened epoxy adhesives. With expertise in bonding structural joints and reinforcing panels in both body shop and paint shop areas, as well as automotive plants, Ray has a thorough understanding of the benefits and challenges of applying and using adhesives to enhance automobile performance.
Moderator:
Amanda Hosey, Editor, SAE Media Group

By registering for this Webinar you agree to receive product announcements and special offers from SAE International via e-mail. By submitting your personal information, you agree that SAE Media Group, an SAE International Company, and carefully selected Partner Sponsors of this content may contact you and that you have read and agree to the Privacy Policy (CA Residents refer to Section D of the Privacy Policy). You may opt-out from communications at any time. You may reach us at This email address is being protected from spambots. You need JavaScript enabled to view it..