Under certain off-nominal conditions, Li-ion cells can generate excessive heat and gas due to the initiation of several exothermic decomposition reactions, which result in a catastrophic failure known as thermal runaway. Thermal runaway is a highly complex phenomenon involving various physical and chemical processes such as heat and mass transfer, turbulent fluid flow, and chemical reactions. In addition, thermal runaway behavior of Li-ion cells is subject to variability, resulting in different possible outcomes depending on the trigger method, state-of-charge, age, configuration it is assembled into, and environment.
The complexity of the physics involved and the variability associated with thermal runaway make it very challenging to model. This work aims to develop a systematically reduced thermal runaway modeling framework to conduct sensitivity, parametric, and variability analysis. Such a framework must be computationally efficient while considering the effects of various physics involved.
This 60-minute Webinar offers a demonstration of the efficient multi-physics solution available within a platform for this use case.
A Q&A session follows the technical presentation.
Speakers:
Mohammad Parhizi, Research Scientist, Electrochemical Safety Research Institute

Mohammad Parhizi is a Research Scientist with the Electrochemical Safety Research Institute (ESRI) at UL Research Institutes. Prior to his current role, he worked as a postdoctoral researcher at Purdue University. Mohammad holds a Ph.D. in mechanical engineering from the University of Texas at Arlington. He is an expert in modeling and simulation of heat and mass transfer processes in energy storage systems, specifically Li-ion batteries.
Joseph Solomon, Simulation Solutions Consultant, Gamma Technologies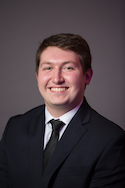 Joseph Solomon is a Solutions Consultant at Gamma Technologies (GT), where he focuses on electrification solutions. He assists GT users in battery design, e-powertrain system analysis, thermal management, and controls development. Joseph holds a master's degree in mechanical engineering from the University of Michigan, where he focused on Li-ion battery performance with an electrochemical mechanical model using GT-AutoLion.
Moderator:
Amanda Hosey, Editor, SAE Media Group

By registering for this Webinar you agree to receive product announcements and special offers from SAE International via e-mail. By submitting your personal information, you agree that SAE Media Group, an SAE International Company, and carefully selected Partner Sponsors of this content may contact you and that you have read and agree to the Privacy Policy (CA Residents refer to Section D of the Privacy Policy). You may opt-out from communications at any time. You may reach us at This email address is being protected from spambots. You need JavaScript enabled to view it..