The development of complex, multi-domain systems requires coordination across a technically diverse group of contributors. If these systems are expensive to build, test, or fix, it becomes increasingly desirable to explore, iterate, and refine the conceptual design virtually before physically realizing the system elements—when correction costs grow substantially. However, when a sender and receiver hold different viewpoints on these exchanges, the translation of viewpoint may "glitch" the information transfer. That is, data is exchanged, but the sender and receiver respond to the information from different viewpoints given their diverse technical domains. The effects of this "glitch" may be significant, but mostly undetectable until they grow into a costly system defect. This 60-minute Webinar will look at approaches to identifying, overcoming, and avoiding these glitches.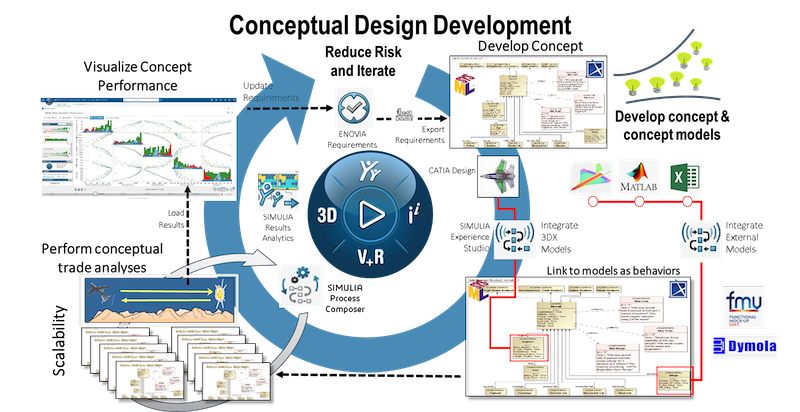 Topics explored include:
How model-based systems engineering (MBSE) and simulation process data management (SPDM) raise confidence in conceptual design by effectively eliminating this "glitch" while managing complexity across a diverse team.
How this increased confidence can be exploited to explore the conceptual design trade space to select development paths that best reduce the risk of incurring avoidable downstream development costs.
The technical presentation will be followed by a Q&A session.
Speaker:
Brian Haan, Director of North American Industry Process Consulting, Dassault Systèmes

Brian Haan is Dassault's Director of North American Industry Process Consulting for model-based systems engineering and simulation process data management. He has more than 25 years of systems engineering and systems engineering management experience that spans multiple industries, with work on complex systems ranging from compact optical systems to large systems-of-systems that literally encompass the globe. Having experienced the challenge of integrating, verifying, and deploying complex systems, he has long recognized the importance of aggressively discovering and managing technical risk early in the system lifecycle with collaboration between systems engineering, subject matter experts from diverse domains, and project management.
Moderator:
Amanda Hosey, Editor, SAE Media Group

By registering for this Webinar you agree to receive product announcements and special offers from SAE International via e-mail. By submitting your personal information, you agree that SAE Media Group, an SAE International Company, and carefully selected Partner Sponsors of this content may contact you and that you have read and agree to the Privacy Policy (CA Residents refer to Section D of the Privacy Policy). You may opt-out from communications at any time. You may reach us at This email address is being protected from spambots. You need JavaScript enabled to view it..