Page 1 of 2
At the annual meeting of the Society of Automotive Engineers (SAE) in Detroit on January 14, 1959, NASA's first Administrator, Dr. T. Keith Glennan, said: "I can imagine a remote future when spaceflight, in some form, might become nearly as commonplace as air travel is today."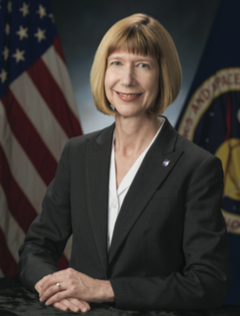 In 2014, NASA's parallel path for human spaceflight took a giant leap forward when the agency announced U.S. astronauts once again would travel to and from the International Space Station (ISS) from the United States on American spacecraft under groundbreaking contracts through NASA's Commercial Crew Program. The agency selected Boeing and SpaceX to transport U.S. crews to and from the ISS using their CST-100 and Crew Dragon spacecraft, respectively, with a goal of ending the nation's sole reliance on Russia in 2017.
Kathryn Lueders is Program Manager for NASA's Commercial Crew Program. She oversees program facilitation of commercial spacecraft development and certification to enable the safe transportation of NASA astronauts.
We recently spoke to Kathryn about the goals NASA has already achieved, and what's to come.
NASA Tech Briefs: Other than no longer relying on Russian crew transportation, what were the main factors behind NASA's push to commercialize access to space?
Kathryn Lueders: We're trying to expand the nation's industrial base. Our efforts to mature U.S. capabilities to be able to deliver crews to low-Earth orbit (LEO) have been successful. The investment the nation has made through the Commercial Crew Integrated Capability (CCiCap), and now in our final certification phase, has really touched and grown parts of industry across the country.
From a NASA perspective, we've always viewed ourselves as a little of the R&D budget of the nation, so this was a particular area that, post-shuttle, we invested in from an Orion and exploration perspective. Getting industry to be able to establish their capabilities to provide crew transportation — that all helps the sub-orbital industry, too. That was really another major goal of the program.
NTB: This seems to be a significant shift in the Agency's traditional spacecraft development program. How is this partnership different from the way NASA has always worked with private industry in the past to build spacecraft — shifting so much of the responsibility to industry?
Lueders: We tried a couple of different ways to commercialize NASA capabilities, and I remember the effort of trying to commercialize the shuttle in the 1990s. What you find out is that it's very difficult when NASA capabilities are so geared to a specific NASA need to then try to turn that over to somebody else to develop their commercial needs. We're allowing each of the commercial companies to determine their strategies to meet our needs, but also to look at what other needs they'd like to meet with their designs.
In the past, we built the NASA capabilities and then figured out how that fit back in with what other people needed. Instead, with Commercial Crew, we just put our NASA requirements out there so companies understood what we will need, but then could build what other capabilities they wanted to have that will help their business case.
If your end goal, in either case, is to get to a commercial operation, I think having it start from the beginning, where the companies own their strategies, is more effective.
NTB: You have to start with partners technologically advanced enough to meet the stringent NASA design review requirements.
Lueders: What I like about this model is that we made sure the contractors really understood our requirements and that they understood, when they were bidding for fixed-price contracts, what it was going to take for them to be able to meet our requirements and put that in their proposals. They were able to propose their concepts and each of them had their unique capabilities that went along with those concepts, as well as meeting our core requirements.
If we would have done this the traditional NASA way, and just had a core set of requirements, that's all they would have met. But each proposal came in with unique capabilities that were above and beyond just the core set that NASA set as the bar. They were viewing other uses for their vehicles and keeping in mind other potential customers for their concepts. The big challenge from a NASA perspective was to make sure that our core set of requirements was as lean as possible while also allowing the partners to meet our needs with as much flexibility as possible to also meet other customers' needs.
If we said that we'd only take a winged vehicle, or we'll only take a capsule design, that would have been very limiting within the competition.
NTB: One concern about private companies taking humans to space is safety. In light of recent accidents and equipment malfunctions, does NASA have a more important role in ensuring that industry will be able to provide safe human access to space?
Lueders: Our requirements are the same, and the job we're going to do is the same. What we need to balance is how you work through the test flights while you're learning about the vehicle, and how you make those as safe as possible while meeting your test objectives.
What we, as a nation, need to start understanding is sometimes as you're working through that initial understanding of the vehicle, there are times when you'll learn something about the conditions under which the equipment is operating that you may not have understood at the time you did the test. That's why we lost test pilots in the 1960s — because we fly with people to check out the system. Within our contracts, we require that you have a test flight with a minimal crew —with one NASA crew member. But it's important to check it out on a test flight to make sure the concept works. Sometimes there are things you don't know about until you get into a flight.